Pillars of Eternity, the series that saved Obsidian, might be over
Even with Microsoft's billions, Obsidian still might not make a Pillars of Eternity 3.
Published Nov 10, 2019 10:40 AM CST
|
Updated Tue, Nov 3 2020 11:46 AM CST
3 minutes & 1 second read time
As outlined in Jason Schreier's book Blood, Sweat, and Pixels, following Stormlands' cancellation in 2012, the then-independent Obsidian Entertainment was put in a pressure cooker. Obsidian had to fire nearly half of Stormlands' devs to reduce spending. Soon their cash would run out and they needed new projects and new funding from publishers.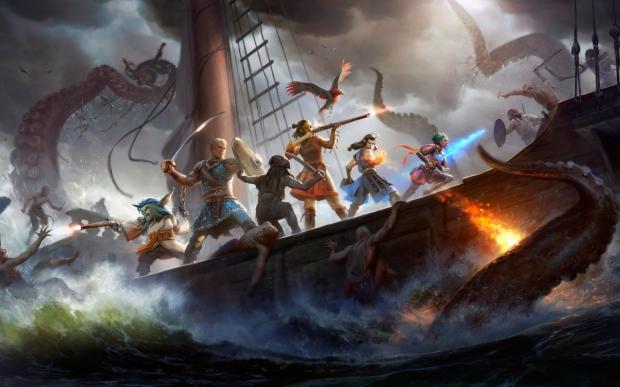 Pillars of Eternity changed all of that and saved the company from a bleak, uncertain future. With the advent of Kickstarter, Obsidian could eliminate the middelman publisher and connect directly with fans. Obsidian could finally make a game everyone wanted to play, and fans could pay Obsidian directly to fund the experience. Obsidian raised over $3.9 million for Pillars of Etenity and for a time their money woes were over.
Although it was an arduous process making Pillars of Eternity, the game was popular enough to warrant a sequel, which was also funded via crowdsourcing (it raised $4.4 million).
That leaves us to the present, where Obsidian is in a better position than ever.
Now that Obsidian is wholly-owned by Microsoft, the company's money troubles are over with. Obsidian has the billion-dollar might of the Xbox titan behind it to fuel its future projects. The only thing it has to worry about now is making its games good enough to avoid a closure or being dissolved.
Sadly, one of those future games probably won't be Pillars of Eternity 3. The reality is that Pillars of Eternity II: Deadfire didn't sell as well as Obsidian had hoped, despite releasing for consoles--and even the Nintendo Switch.
In a recent personal Tumblr post, Obsidian's Josh Sawyer outlined a few reasons why Pillars of Eternity may die out at Deadfire.
If a new Pillars game does come out, it'll probably be drastically different than the old-school Baldur's Gate isometric game system.
[A Pillars of Eternity 3] is not something that I get to decide, but I do think that the relatively low sales of Deadfire mean that if we consider making another Pillars game in this style, we're going to have to re-examine the entire format of the game.

It is difficult to know exactly why a sequel sells worse than its predecessor if both games review relatively well. Is it because the first game satisfied the existing need and the audience just wasn't interested in the second? Is it because awareness was lower for the sequel? Is it because despite the strong reviews and the strong sales for the first game, people didn't "really" like it? Maybe it's a combination of all of these things.

The problem is that without really understanding the reason(s), it's hard to know how to move forward. It would be easier in some ways if Deadfire were also a colossal critical failure and we could point to the massive screw-ups that we needed to address. Players did criticize the low difficulty at launch and the main plot, which I think are fair and reasonable, but those problems alone don't really explain the difference in sales. And while player reviews were weaker for Deadfire than for Pillars 1, professional criticism tended to say that Deadfire was an improvement over the first game in most areas.

(Yes, Deadfire has an 88 Metacritic and Pillars 1 has an 89 Metacritic, but IMO Pillars 1′s review scores benefited from a nostalgia bump.)

Players who hate RTwP combat will say that it's because Deadfire continued using RTwP combat, in contrast to the phenomenally better-selling (and better-reviewed) turn-based Divinity: OS2. Even if that's true, Pathfinder: Kingmaker, which generally had lower review scores than Deadfire, sold better than Deadfire and had RTwP combat.

I'm sure some of the people reading this think they know precisely why Deadfire sold worse than Pillars 1. I don't have that confidence, which is one of several reasons why I am leery about trying to direct a sequel. I couldn't give our (Obsidian's) audience the game that they wanted and without understanding where I went wrong, I would be guessing at what the problems are and how to remedy them.
Related Tags