Apple and Adobe have debuted Adobe Photoshop for iPad, the app is currently available on the App Store for download.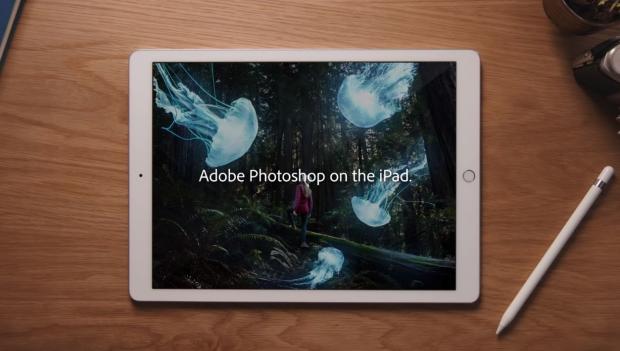 Back in October, I reported on Photoshop making its way over to the iPad, and the time has finally come as it has arrived as a 30-day trial on the App Store. The app supports full PSD editing, layers, tools, advanced tools and cloud syncing. Unfortunately, as it was detailed back in October, Photoshop for the iPad isn't full kitted out with all the features editors know and love.
Although, as time goes by Adobe plan on adding more and more features to the app, but at the moment its missing some core features. In the entirety of this article there are dot points listing the major features included within the app. There is also some dot points listing what features Adobe are currently working on. To go alongside Photoshop for iPad, contacts close to Bloomberg have said that Adobe eventually plan to bring Adobe Illustrator over to iPad.
Photoshop for iPad Features:
Create with full PSDs: Create on your iPad with the Photoshop features you know and love, from retouching and compositing to spot healing and blend modes. Layers? They're all here. Resolution? No difference. Your PSDs are exactly the same, whether you're working on your desktop or a mountain top.
Familiar tools, fingertip control: Work with your Layer stack and Toolbar tools just like you do on your desktop. Swipe, pinch, tap, scribble, slide - you'll feel closer to your work than ever before. And with the context-aware UI, only the core tools and panes are displayed, so you can focus on your canvas, not the clutter.
Work anywhere: It's simple to keep your PSDs in sync across devices because now you don't have to. Your documents are automatically saved to Adobe's cloud as you work and available on any device running Photoshop.
Compositing: Make precision selections with the Quick Selection tool, Lasso tool, and advanced selection options such as feathering. Use the paint brush to mask in and out certain parts of your image to create sophisticated composites.
Retouching: Edit and enhance images and remove unwanted elements with features such as spot healing and clone stamp.
Future updates being worked on:
Brushes

Masks

Refining edges

Selecting smart subjects

Brushes and fonts sync with Creative Cloud