First step made towards Big Hero 6 robots & they could save MANY lives
These self-assembling robotic cubes can move all by themselves.
Published Nov 2, 2019 5:03 AM CDT
|
Updated Tue, Nov 3 2020 11:46 AM CST
0 minutes & 54 seconds read time
When you think about robots that can move all by themselves, your first thought probably isn't robotic jumping cubes. Yet they are here, and moving quite easily.
Researchers out of MIT have shown of version 2.0 of what has been called the "M-Block", a self-assembling robotic cube that was first revealed back in 2013. The above video has been released to showcase how the blocks work, and from the video we learn that the cubes generate their own momentum with an internal flywheel, and use magnets to latch onto other block faces.
Each of the blocks also have a specific 'barcode-like' print located on their faces, this barcode can tell the blocks to follow a fixed path to accomplished desired tasks. MIT News says that researchers imagine that this kind of block technology will be used in industries such as inspection, gaming, manufacturing, health care and strangely enough, disaster response. A quote from MIT News is located in the entirety of this article.
MIT News: "Imagine a burning building where a staircase has disappeared. In the future, you can envision simply throwing M-Blocks on the ground, and watching them build out a temporary staircase for climbing up to the roof, or down to the basement to rescue victims."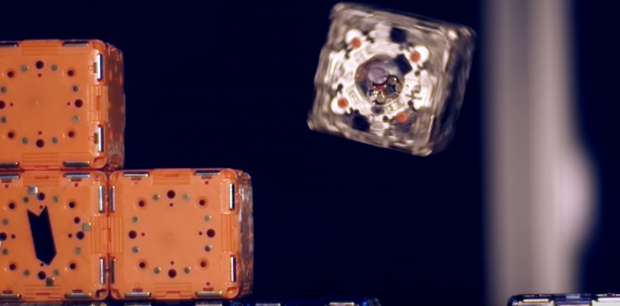 Related Tags