Fallout 76 private servers: Everything you need to know
Fallout 76 is getting private servers, but there's some strings attached.

Published Oct 23, 2019 1:39 PM CDT
|
Updated Tue, Nov 3 2020 11:46 AM CST
Fallout 76's new paid subscription plan is eye-opening to say the least, but let's delve into how private worlds will actually work.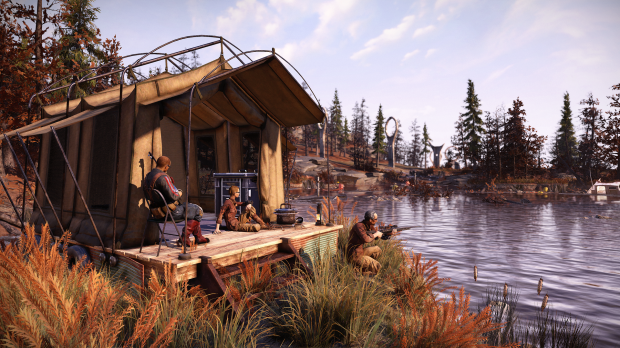 Fallout 76 is getting private servers. And like most games you'll have to pay for them, but not separately. Bethesda chose to wrap private worlds into a new subscription called Fallout 1st, which costs a whopping $12.99 a month or $100 a year. You can't just buy private worlds access and instead have to buy into the subscription, which also includes some exclusive pay-to-win items.
So how do private worlds actually work? Here's a quick breakdown:
Eight players per world

Private worlds available right now

Fallout 1st not required to join a private world, just to host one

Currently no mod support

One Fallout 1st member has to be present in the world or the session will close (and stay closed until a member logs in)

Everything you do in a private world carries over to public worlds in Adventure Mode and vice-versa

"Private Worlds are not persistent and once shutdown, will need to be started by the Owner again"

Increased CAMP budgets

Expanded building areas

Private worlds will "continue to evolve with new features"

Items, levels, and content from Adventure Mode are preserved
Private worlds are a huge addition that will likely help Bethesda re-monetize the game and recoup some cash, but only from the Fallout 76 faithful. With huge juggernauts like Destiny 2 Shadowkeep, Modern Warfare, and even Fortnite Chapter 2, the game will be hard-pressed re-engaging an audience that's already jumped ship.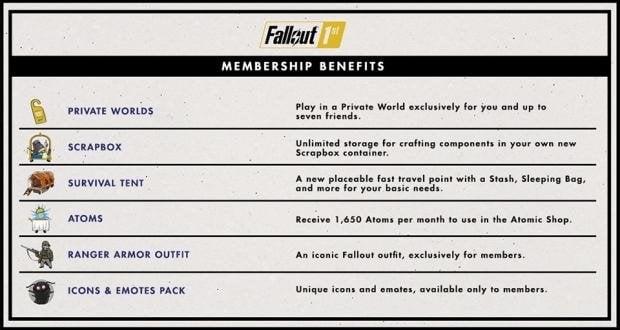 One of the biggest things about private worlds is a sense of curation, freedom, and control. Sadly Bethesda won't let gamers actually adjust specific settings for their private worlds: Right now private worlds follow the same rules as public instances in Adventure Mode.
As a host you can, of course, control who plays in your slice of the Wasteland. At any time you can block and remove someone from your friend's list and kick them out of your game. Apparently there's no kicking feature without having to block and delete a player.
The Fallout 1st subscription is available now and private worlds are now live.
Here's more info:
The community has been asking for the ability to play in private worlds since before the launch of Fallout 76, and we're very excited to announce that they are coming to the game with Fallout 1st. If you're a Fallout 1st member, how you use your private world is completely up to you: Invite up to seven of your friends at a time (eight total people per private world) to join you in taking on the dangers of post-apocalyptic West Virginia, or play completely solo. All gameplay remains the same from Adventure Mode and all characters entering the Fallout 1st private worlds must be existing characters.

Only the owner of a private world is required to be a Fallout 1st member. Head into your private world, open your Social menu once you're in-game, and start inviting your friends to kick off the party. You can also create a squad outside of your private world and then switch to it to bring everyone along at once. Should the owner of the private world leave, the world will still stay active as long as one other player in the world is a Fallout 1st member.

Private worlds will continue to evolve with new features such as expanded building areas, increased C.A.M.P. budgets and Workshop persistence. We've also received a lot of questions about playing Fallout 76 with mods and this, too, is something we're excited to add to private worlds in the future.

Access to your Private World, Survival Tent, exclusive in-game Atomic Shop promotions and sales, and ability to deposit items in your Scrapbox, are available for the duration of membership. Your Private World is provided on-demand and will shut down if at least one Fallout 1st member is not present on it. Note players are not required to have Fallout 1st membership in order to access another player's Private World, only to start their own. In the event your Fallout 1st membership expires, you'll still be able to access any Atoms received and resources stored in your Scrapbox; you just won't be able to deposit new additional crafting components.
Related Tags