Fallout 76 gets $100 a year subscription plan with pay-to-win content
Bethesda has over-monetized Fallout 76 in an attempt to recoup cash and pay for private worlds access.
Published Oct 23, 2019 12:47 PM CDT
|
Updated Tue, Nov 3 2020 11:46 AM CST
2 minutes & 21 seconds read time
It's finally happened. Fallout 76 is getting a paid subscription model to help pay for private worlds and make extra cash.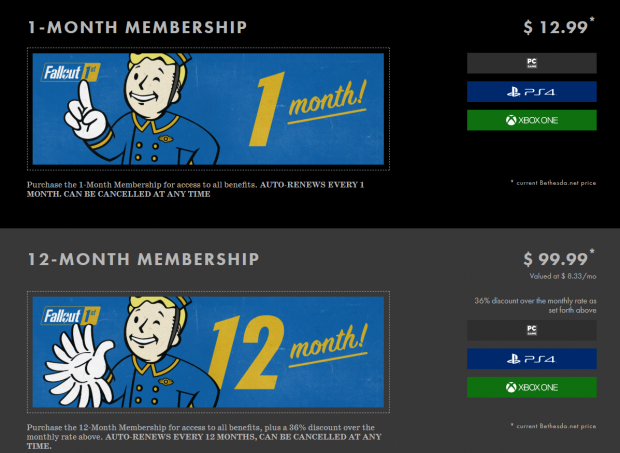 Fallout 76's new subscription plan, Fallout 1st, is an attempt to not only re-monetize a game that may be failing to generate cash from in-game purchases, but a means of paying for private server access. Fallout 1st subscription memberships come in two expensive flavors: a $12.99 a month pay-as-you-go plan, and an incredible $99.99 a year option. Yes, really.
Fallout 1st includes access to private worlds hosting, but it also gives exclusive access to some serious pay-to-win content. Subscribers get access to a Survival Tent, which is basically a home away from home that includes a stash, a cooking station, a sleeping bag, and a scrapbox. It's basically a second campsite. The scrapbox is also new and gives you a serious advantage. It has unlimited storage for scrap and separates it from your stash--considering scrap is a huge part of whatever you're carrying in Fallout 76's massively tedious grindy gameplay, this is absolutely massive.
This isn't the first time pay-to-win content arrived in Fallout 76. Bethesda's actually been selling non-cosmetics in the Atomic Shop for a while, first with generators, then with repair kits that instantly fix items, and more recently a refrigerator that helps food not spoil and a robot station that gathers materials for you.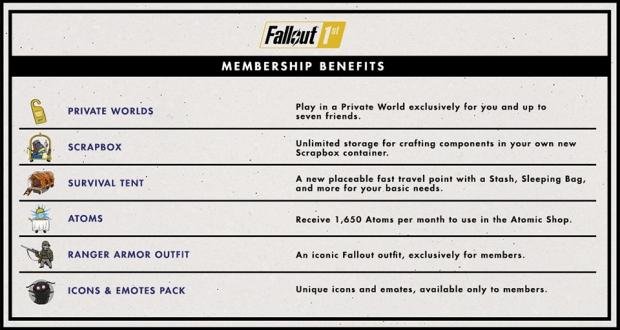 Read Also: If Fallout 76 did so well, why add more microtransactions?
The sub also gives you a monthly allotment of 1650 caps, which can be spent on these pay-to-win convenience items as well as cosmetics.
Bethesda really doesn't understand service games (we outlined this in our Fallout 76 review and it still holds true now). Bethesda is doing what I warned it not to do: It's overmonetizing Fallout 76 with way too many schemes. Yes, private worlds do cost money in most games, and yes, a subscription plan is more convenient in some respects, but this is just way too much. Even ARK's private servers start at $10 a month.
This pricing scheme is outlandish and is more than Xbox Game Pass, which gives you access to over 100 games a month, and it's more than most Battle Passes in big games like Fortnite. It's way too expensive.
It's also quite telling that Fallout 1st rolled out before its big new Wastelanders expansion, which is 100% free and adds human NPCs. The idea is to help pay for big expansions like this using the subscription and converting faithful players into more paying customers.
I don't see this going over well at all and Bethesda will likely have to change the price.
Related Tags