Stadia's games lineup isn't data cap friendly
By default Stadia doesn't play nicely with your data caps, but its included launch games certainly don't help.
Published
5 minute read time
Stadia has a lot of big AAA blockbusters and live service games, which are great for dedicated consoles and PCs, but not for online-only streaming.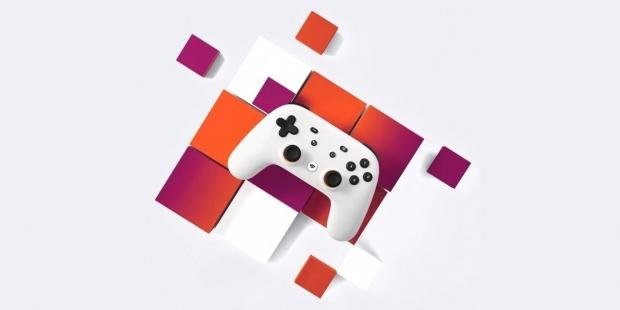 Bandwidth is one of the biggest concerns about Google's new Stadia game-streaming platform, whether it be latency or in-game lag or data usage. Stadia beams games wirelessly from Google servers to Chromecast Ultras, laptops, desktops, and even Pixel 3 phones, using local internet connections as a conduit for play. But that data adds up real fast, and a study shows Stadia will quickly smash monthly data caps. This issue is exacerbated by Stadia's games lineup, which consists of some of the biggest time-sinks in the entire industry.
How much data Stadia eats up depends on how long you play. But how long you play in turn depends on what you play. Right now Stadia isn't matched up with games that respect your time or your data--and some, like Destiny 2 and Borderlands 3--are big investments on both regards. Stadia's launch lineup includes some of the most gigantic grindy games on the market today.
From Red Dead Redemption 2, whose meticulous attention to detail commands dozens of hours, to the never-ending loot grinds of The Elder Scrolls Online, Destiny 2, Borderlands 3, or Ghost Recon: Breakpoint, Stadia's games are probably some of the worst games to play for any data-conscious gamer worried about smashing through their monthly allotment.
The more I look through Stadia's launch games list, the more worried I am. There's some absolutely amazing games on here and the selection is pretty good. These aren't bad games, they're bad for Stadia. These titles require serious time investment with tens of hours of playthroughs, repeated missions and activities, and a lot of grinding. They're great for dedicated platforms without limitations...not necessarily a streaming-only service that eats up your data.
The service would benefit from smaller bite-sized indies that don't require lots of investment versus huge sprawling AAA titans.
A lot of these games were made specifically for non-restrictive environments, ie dedicated offline play and LAN connections. They weren't made with data caps in mind.
Stadia Launch Games
Marvel's Avengers

Cyberpunk 2077

Assassin's Creed: Odyssey

The Elder Scrolls Online

Metro Exodus

Final Fantasy XV

Doom Eternal

Doom

Red Dead Redemption 2

Baldur's Gate 3

Borderlands 3

Ghost Recon: Breakpoint

Gylt

Get Packed

The Division 2

The Crew 2

GRID

FM

Power Rangers: Battle for the Grid

Mortal Kombat 11

Farming Simulator 19

Darksiders: Genesis

Trials Rising

Wolfenstein: The New Order

Just Dance

Thumper

Shadow of the Tomb Raider

Dragonball Xenoverse 2

RAGE 2

Samurai Showdown
Remember Stadia is streaming-only and there's no download feature to play offline.
The only way to play Stadia games is to connect to the internet and have them streamed on-demand to you. Games aren't included in a monthly fee, either: The premium $10 a month Stadia Pro gives you one free game a month, access to 4K 60FPS streaming, and discounts on game purchases.
Stadia Pro subscribers still have to buy the games separately from a storefront.
Things get even messier when you think about streaming in 4K 60FPS. Google touts the platform will deliver games at 4K 60FPS wirelessly via the cloud, saying every launch game will hit this spec. But hardly any gamers will probably even use that spec in fear of annihilating their data caps overnight.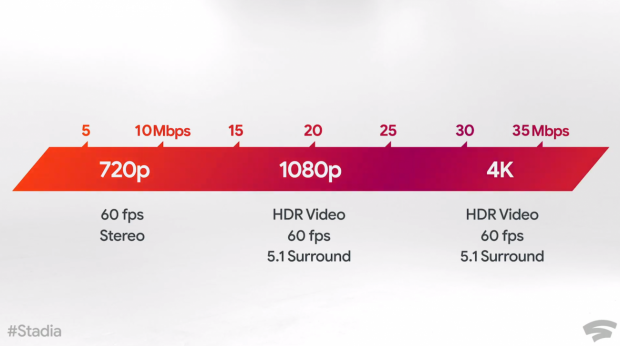 Stadia requires the following internet speeds:
720p 60FPS gaming -> 10mbps
1080p 60FPS gaming -> 20mbps
4K 60FPS gaming -> 35mbps
This is a steep cost for convenience that could undermine Stadia's long-term goal of circumventing video games hardware. It's basically trading a higher upfront cost for a lower upfront cost that grows over time, especially as your library grows, your streaming habits change, and the subscription swells.
As a business pitch, Stadia sounds revolutionary and game-changing. I for one think it could completely evolve gaming.
But it won't do that overnight. There's going to be some intense growing pains, and data caps will be a part of that, especially in the U.S. where most ISPs have monthly limits. Stadia isn't just competing with consoles, either: it's competing directly with Netflix, Disney+, and Hulu, all of which can use a good portion of family household bandwidth.
At the same time, I'm pretty sure Google knows what it's doing here. So do game publishers like Ubisoft and 2K Games. Stadia is a digital-only platform, and the business of digital is predicated on one big thing: engagement. Engagement is incredibly lucrative and potent because it can be monetized via microtransactions.
The idea is to make Stadia not only a hotbed for full game sales and recurring monthly platform subscriptions, but another big breeding ground for microtransaction earnings. It's no coincidence that a lot of Stadia's launch games are live service games with monetization. It's part of the plan.
It's just Google and games publishers have put the cart before the horse. They're trying to rush a bunch of service games onto an online platform that's simply ahead of its time in some bad ways.
It'd be better to test things out with smaller games and gradually move up to beefier titles, not smash a bunch of heavy hitters together to attract users who don't necessarily know the hidden fees involved.
The big problem with this plan is that no one's going to play Stadia games if they blast through their limit and end up getting charged extra by their ISPs. Not only do gamers have to buy the games outright, the same as on PC or consoles, they're exclusively stuck to online play. Lots of extra costs racking up--like the required Chromecast Ultra, Stadia controller, full game purchases, and the Stadia Pro subscription--could deter them further.
I think most gamers will just wait for Black Friday, pick up a console, and buy and play the games that way.
Of course if you have an unlimited internet plan, then you're all set. Stadia is perfect for you. But for the rest of us...Stadia could be an iffy gamble right out of the gate.
Stadia launches on November 19, 2019 for Stadia Pro Founder's Edition buyers. There's a lot of info to digest here, so check below for a handy checklist.
Everything we know about Google Stadia
It's online-only streaming, no downloads

Beams games to Chromecast Ultras for TV play, Pixel 3 and Pixel 4 smartphones for mobile play, and laptops/desktops via Google Chrome browser

$129 Founder's Edition includes special Stadia controller, Chromecast Ultra, full Destiny 2 experience, and 3 months of Stadia Pro

Stadia Pro costs $10 a month

Stadia controller has built-in Wi-Fi, syncs directly with games for improved button-press latency

Internet speed requirements: 10Mbps for 720p 60FPS, 20Mbps for 1080p 60FPS, 35Mbps for 4K 60FPS

Will support 4K 60FPS for all launch games, including Destiny 2 and Red Dead Redemption 2

No all-you-can play subscription. Games sold separately at $59.99 a piece.

Stadia Pro subscription includes 4K 60FPS access, one free game a month, and discounts on all games

A free Stadia version will launch in 2020
Related Tags