TEAMGROUP announces new memory and SSDs for AMD X570 and Ryzen 3000
TEAMGROUP debuts new high performance memory and storage for AMD's X570 and Ryzen 3000 series CPUs.

Published Tue, Oct 8 2019 3:58 PM CDT
|
Updated Tue, Nov 3 2020 11:46 AM CST
The launch of AMD's Ryzen 3000 and the new X570 chipset has come with new memory speed capabilities for Ryzen. Also, supported is PCIe Gen 4, which is all but useless for GPUs, but one area definitely makes good use of it, storage! Storage supporting PCIe Gen 4 launched with GIGABYTE and Corsair leading the charge, but we knew it would not be long until others entered the ring. Enter TEAMGROUP and their well-established prowess in both memory and storage.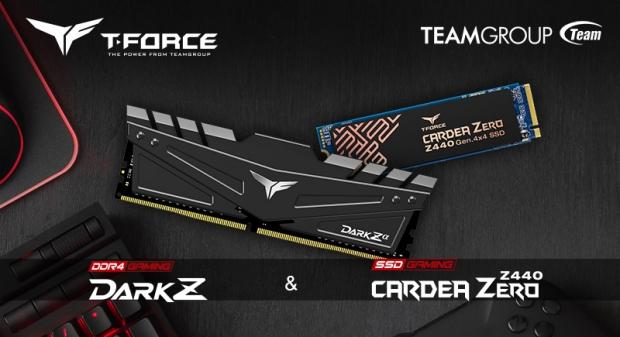 T-Force Dark Z DDR4
TEAMGROUP today announced its first entrants into official Ryzen 3000 and X570 targeted memory and SSD products. The memory labeled T-Force Dark Z is offered in several capacities and frequencies. The baseline for the Dark Z is 3200MHz, with kits reaching up to 3600MHz and 4000MHz. Most enthusiasts know that the proposed sweet spot for Ryzen 3000 is 3600 for a smooth plugin and go performance option as the FCLK and UCLK can all be synchronized across the platform for optimal performance.
Many users have found that DDR4 3800 can be done while still syncing the clocks, but that's a bit more involved. By the time you reach 4000MHz, you are going to be tweaking your FCLK and other things to get optimal performance and offset the latency hit; you will take when changing from 1:1 to 2:1.

The T-Force Dark Z arrives sans RGB for a blacked-out or stealth appearance while still having the mild V aesthetic to the heat spreader.
T-Force Cardea Zero
As mentioned previously, TEAMGROUP hit the ground running with both DDR4 and NVMe SSD solutions for the new AMD platform. With that being said, we also are introduced to the Cardea Zero, which is TEAMGROUP's first entry into the PCIe Gen 4 SSD space, and it looks to match the opposition blow for blow. Of course, this drive is powered by the only consumer-available PCIe Gen 4 SSD controller at this time, the Phison E16. With that considered, it makes sense as to why the performance between these early Gen 4 drives is similar.

The Cardea Zero comes with a graphene copper foil style cooling module, which is claimed to be able to handle the thermals from the Cardea Zero while maintaining a thickness of sub 1mm. As soon as our storage editor has the new Cardea Zero in hand, you can bet we will test the validity of this claim, but it is exciting to see this as removes some of the heft from the other Gen 4 drives on the market presently.
Product - Capacity - MSRP (USD)
Cardea Zero - 1TB - $249

Cardea Zero - 2TB - $499

DDR4 4000 - 8GBx2 - $99

DDR4 4000 - 16GBx2 - $189

DDR4 3600 - 8GBx2 - $89

DDR4 3600 - 16GBx2 - $169

DDR4 3200 - 8GBx2 - $79

DDR4 3200 - 16GBx2 - $154
Related Tags