UPDATE: Microsoft has issued a statement saying Project Scarlett won't ship with a camera.
Microsoft's ultra-powerful next-gen Project Scarlett Xbox console will come with a high-end 4K camera, sources tell Gizmodo.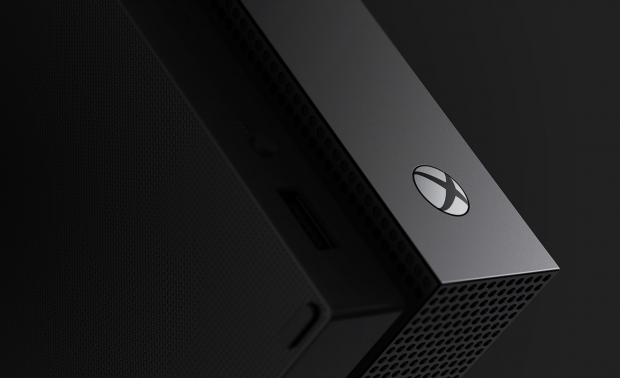 Microsoft has been surprisingly open about its new Xbox console. The company confirmed Project Scarlett will sport AMD's new Zen 2 CPU and GPU technology for a huge compute jump over current gen, it's targeting higher frame rates versus resolution, it's 4x as powerful as the Xbox One X's 6TFLOPs of power, and it has an on board super-fast SSD that can be used as VRAM for games. And it's fully backward compatible with every Xbox One game and peripheral.
Other than the huge power leap, Scarlett has a big surprise waiting for gamers: a new and improved camera. Unnamed sources tell Gizmodo that the next-gen Xbox will ship with a camera optimized for streaming with potent two-frame latency between streams and on-screen footage.
It may not be a Kinect 3.0 with movement tracking, but it's based around streaming. Essentially Microsoft wants everyone to become a Mixer streamer, and will use Scarlett's beefier 4K camera as another avenue for its billion-dollar engagement ambitions.
The idea is once players start streaming, they'll become more cemented into the digital online Xbox ecosystem, which includes subscriptions like Xbox LIVE and Xbox Game Pass, full game sales, and of course, Mixer's wide galaxy of ads and money-making schemes.
Not only will consumers keep playing games once they start streaming them, but they'll continue paying for them in a myriad of ways, whether it be via full game purchases or monthly subscriptions. It's just another way to hook gamers into what Microsoft calls the Gamer's Journey.
"Our major asset is our customers, and the engagement they put into Xbox LIVE," Xbox's Phil Spencer said in 2017.
Microsoft hasn't confirmed any information on Scarlett's camera, but it did say the system will be out Holiday 2020. No price has been locked in yet.
Project Scarlett confirmed details:
Zen 2 CPU

Navi GPU

4x as powerful as the Xbox One X's 6TFLOPs of perf

Super-fast SSD that can be used as VRAM (likely PCIe 4.0)

Supports 8K resolution (likely media playback)

120FPS gaming

Can deliver up to 40x more performance than Xbox One in specific use cases

Raytracing confirmed

Backward compatible with Xbox, Xbox 360, and Xbox One games

Compatible with Xbox One accessories