Man finds working iPhone at bottom of river, was there for 15 months
YouTuber dives into a river and finds a lost iPhone, recovers it and it still works.

Published Thu, Sep 26 2019 9:43 PM CDT
|
Updated Tue, Nov 3 2020 11:47 AM CST
Nugget Noggin is a YouTuber that dives to the bottom of rivers to find lost, sunken treasure -- where his latest expedition involved finding an iPhone inside of a trashed waterproof case... and it still worked! Check out the video below:
Michael Bennett is "Nugget Noggin" who has videos on him diving into various rivers to find all sorts of goods, but his latest adventure to the bottom of the Edisto River in South Carolina saw him discovering a sunken iPhone, retrieving it, and returning it to its rightful owner.
Bennett was interviewed by local news outlet WDAM 7 where he said: "I came across something that looked kind of like a rope maybe attached to car keys, and when I pulled it up, I seen a phone inside of a waterproof case and I'm like, 'No way, this is unbelievable!"
The iPhone worked, after over a year at the bottom of the Estida River... but Bennett couldn't get into it because of iOS security. He put the phone's SIM card into a different phone and then pulled the contact information from it, with the owner being Erica Bennett (of no relation it seems).
Erica lost her phone on June 19, 2018 during a family trip -- where she got out of her float, and in dropped the iPhone into the Estida River. Sadly, Erica thought she lost something quite important to her -- text messages from her late father, something she thought she had lost forever.
Erica explained: "It was kind of emotional because the last thing I have from him is saying, 'Hey I'm playing phone tag with you, so I just figured I just text you, how are you feeling?' And I think he had called me after that. I'm pretty sure it was Father's Day".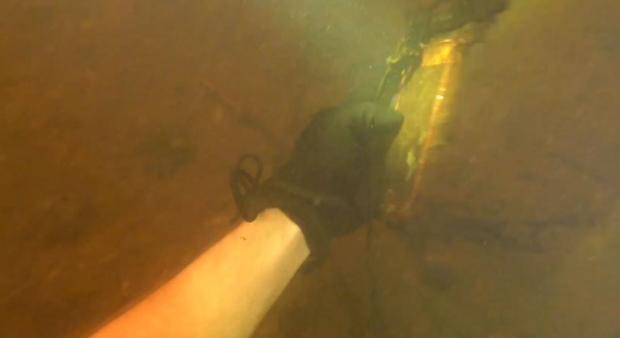 Related Tags