NASA's new Black Hole visualization explains how & why we observe it
NASA has released a new visualization of how a black hole warps the world around it.

Published Thu, Sep 26 2019 4:06 AM CDT
|
Updated Tue, Nov 3 2020 11:47 AM CST
NASA has issued out a new visualization that illustrates to viewers how a black hole warps its surroundings. The image is located below.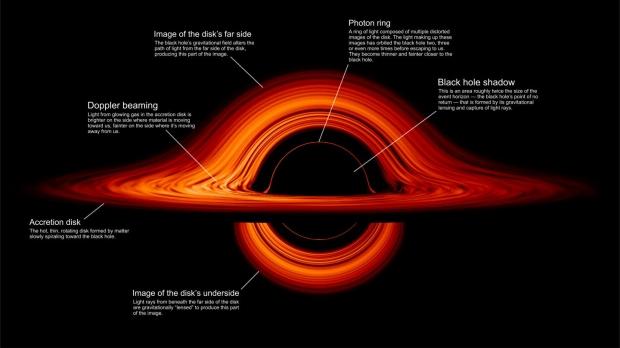 Above we have the image released by NASA, and they explain that we can see where the black holes extreme gravitational pull has managed to pull in large amounts of matter that form into a thin structure called an accretion disk. It is also detailed that due to the black holes gravitational pull that light cannot even escape its draw, skewing the rays from all different directions and resulting in the strange shape we observe.
Closest to the center of the black hole is gas which form knots that and dissipate and re-form as the accretion disks magnetic fields change. At the bottom center of the black hole we can see what is called a "photon-ring" which is composed of multiple rings of light that have been bent. These rings will grow progressively fainter as time goes on due to the light circling the black hole many times and eventually not being able to reach our eyes. Here is the first-ever image of real-life black hole.
Jeremy Schnittman, the creator of this image used custom software at NASA's Goddard Space Flight Center in Greenbelt, Maryland said "Simulations and movies like these really help us visualize what Einstein meant when he said that gravity warps the fabric of space and time. Until very recently, these visualizations were limited to our imagination and computer programs. I never thought that it would be possible to see a real black hole."
Related Tags