Modern Warfare's cross-play won't support ranked modes
Modern Warfare's cross-play supports all modes except for ranked play.

Published Tue, Sep 17 2019 5:20 PM CDT
|
Updated Tue, Nov 3 2020 11:47 AM CST
Modern Warfare's cross-play will have some limitations and won't let console players square off against PC players in ranked matches.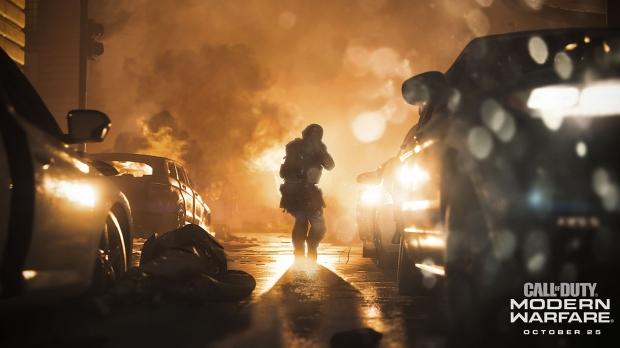 Cross-play is coming to Call of Duty for the first time, and it's a huge deal for everyone involved. Microsoft, Sony, and Activision stand to make a killing from monetization, engagement, subscriptions, and raw game sales. In a recent blog post, Infinity Ward says cross-play unification on PS4, Xbox One and PC is opt-in, and gamers can choose whether to play against gamepad or keyboard and mouse players. But there's some multiplayer match types like ranked play that won't be supported.
"Crossplay supports all multiplayer modes in Modern Warfare. There are no plans currently to support Ranked Play or competitive tournaments," Infinity Ward wrote in a recent blog post.
Modern Warfare supports the following game modes, all of which support cross play (but not for ranked variants):
Hardpoint

Search & Destroy

Capture The Flag

Domination

Infection

Gunfight

Cyber Attack

Kill Confirmed

Headquarters

Ground War

Team Deathmatch

Gun Game

Musical Chairs

War
Infinity Ward also confirms gamers can use in-game partying to communicate and team up with players on other platforms. So PS4, Xbox One, and PC players can all join up in the same team lobby and chat with one another...but you'll have to use a COD Account. (Also remember an active Xbox LIVE Gold or PlayStation Network sub is needed for online play and interactions.)
Despite this focus on a level playing field, Activision will give PS4 players a day one multiplayer advantage.
Here's more details on Modern Warfare's cross-play, and the game will be out October 25, 2019 on PS4, Xbox One and PC.
You can Opt in, or Opt out:

In Modern Warfare, players can choose to enable crossplay, allowing players to play with friends on all three supported platforms, so the game offers an opt-in choice.

A COD Account is Needed:

Remember, you will need a COD Account to play Modern Warfare, if you don't have one already you can create one here.

Matchmaking and Balancing:

In Modern Warfare, crossplay has been designed to factor play balancing across differences in controller type. No one should feel an unfair advantage. Plus, players have choices on which control device they wish to use on any platform. Here are some examples you may experience:

You can decide to use keyboard and mouse on PlayStation 4 or Xbox One.

You can decide to use a controller on PC.

PlayStation 4, Xbox One, and PC players can all play against each other, provided they all utilize controllers, or all utilize KBM (a keyboard and mouse).

You can place into a lobby where there are no control scheme filters, allowing you to play with players using both controllers and/or KBM across up to all three supported platforms.

Plus, with the addition of crossplay, we anticipate that players should look forward to even shorter lobby wait times.
Related Tags