Modern Warfare's free DLC coming simultaneously on all platforms
Modern Warfare's DLC won't be staggered as much as before, but the PS4 deal still stands.

Published Tue, Sep 17 2019 3:50 PM CDT
|
Updated Tue, Nov 3 2020 11:47 AM CST
Most of Modern Warfare's massive arsenal of free DLC and content updates will roll out on PS4, Xbox One and PC at the same time.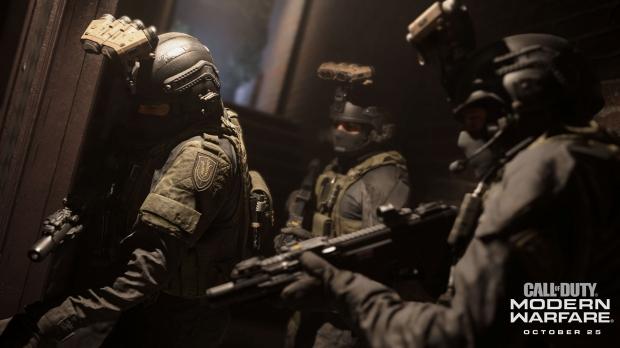 Activision says Modern Warfare will have the most post-release content out of any Call of Duty game ever made. Luckily that content won't be significantly divided up or released early on specific systems, and will instead launch simultaneously on every platform. Well most of it at least; Activision's deal with Sony still stands, so PS4 should get first dibs on some stuff.
In a recent Activision blog post, Infinity Ward confirms that DLC rollout cadences aim to match the cross-play initiative of full accessibility irregardless of platform. But every platform won't get everything at the same time.
"Following the launch of Modern Warfare next month, the team has worked to ensure that content will be released in a way that enables all players to continue to seamlessly play together.

"Most Post-launch gameplay content, including new multiplayer maps, new multiplayer modes, special ops missions and more will release simultaneously across all platforms. We look forward to further detailing how post-launch content plans will operate prior to Modern Warfare's launch on October 25th."
In the very next paragraph, the devs take some thunder out of the announcement by confirming a PS4 advantage on day one. Ouch. So much for a level playing field?
"In addition, Call of Duty is excited to continue its partnership with PlayStation... But the best is yet to come. For the very first time in our partnership with PlayStation, PS4 players will have an exciting Day 1 advantage. More details on how Call of Duty will continue to support PlayStation as the best place to play Modern Warfare will be rolled out soon."
So there's a ton of free DLC. But how will Activision justify all this added content? Microtransactions are in, of course, and there's evidence that lootboxes will return.
There's absolutely no mention of monetization and Infinity Ward has yet to confirm any details. The game releases next month and I bet they're still trying to work things out, but honestly the main path should be cosmetic-only content like skins and outfits and such.
Modern Warfare will be Activision's biggest game of 2019 and stands to bring many milestones. It's the first game to support total cross-play unification on consoles and PC, and it's also the first Call of Duty to release out of Activision's big new business plan. Whether or not Infinity Ward will make the right moves remains to be seen.
Call of Duty: Modern Warfare releases on October 25, 2019 on PS4, Xbox One and PC.
Related Tags