In Cyberpunk 2077's high-tech futuristic Night City, everything's connected. That means everything can be hacked and turned into a weapon, including bench presses and a boxing training robot that punches people's heads off.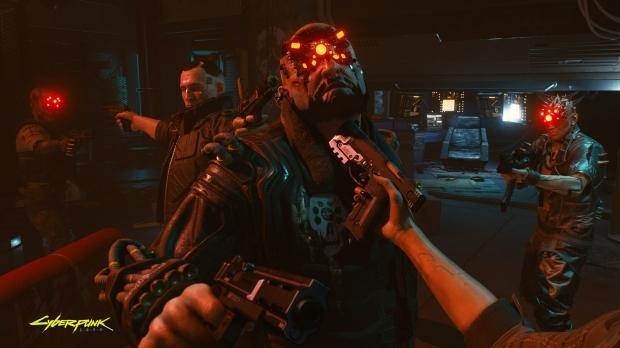 Cyberpunk 2077 has a ton of playstyle options, but choosing a stealthy Netrunner lets you hack the world around you in creative ways. It's kind of like Watch Dogs, but with a more involved and ambitious next-gen scope. Being a seasoned Netrunner means you can manipulate the massively connected world of Night City and turn practically everything into a weapon or a much-needed distraction--including actual enemies. Pretty much everything is electronic and connected to a network, making the city a playground for your amusement. The results are often pretty humorous--hacking a bench press machine so it fails and crushes a guy's head
"Just develop your Netrunner skills to hack into enemy tech to have it do the dirty work for you."
Hacking also lets you bypass locked doors and grants access to specific areas while disarming alarms and other intrusion protections. Netrunners are sneaky, stealthy classes that innocuously sidle by as crazy machines dish out serious damage, pretending like nothing happened--or they slip under the radar and in the shadows.
There's a hacking mini-game where you have to match up letters and numbers to unlock various things including camera lag, enemy tracing, and gives you control across specific devices on the network including turrets and the like. Using a terminal and solving the mini-game gives you more permanent control, whereas hacking in real-time out in the field is more temporary quick-hacking.
People are connected to the network too, so naturally they can be hacked.
Players can use these nifty nanowires to hack NPCs from afar and make them do crazy things like turn on their friends or even blow their own heads off. It's kind of like if Spider-Man were a high-tech miscreant who wanted to watch the world burn.
"With our nanowire, we can hack this guy's implants from a distance. In this world, almost everything is connected to a local network. And that means it can be hacked."
But there's a risk to hacking too many things. Everything you hack gets noticed and you're always being watched by someone, whether it's a gang, the corporate faction, or NetWatch, a kind of government body that wants to keep rampant AI in check.
So what you do insofar as hacking has a ripple effect on everything and can change the outcome of the entire game.
CD Projekt RED says this is just a sampling of the massive freedom, choice, and scope of Cyberpunk 2077's hacking system. It goes a lot farther than this and I for one can't wait to see more.
Cyberpunk 2077 releases on April 16, 2020 on PS4, Xbox One, and PC. The Stadia version will drop later in 2020.