Battlefront II lootbox controversy was DICE's rock-bottom moment
Lootbox greed swayed DICE to the Dark Side, but now they're focused on redeeming Battlefront II.

Published Tue, Aug 27 2019 12:33 PM CDT
|
Updated Tue, Nov 3 2020 11:47 AM CST
Battlefront II's dreaded lootbox controversy was a teaching moment for DICE, and the studio admits it was their lowest point in history.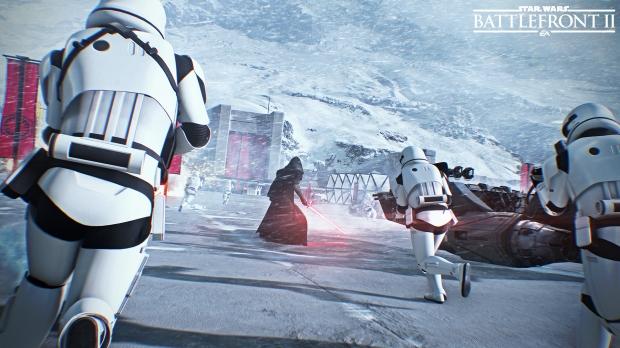 Both EA and DICE have learned a lot from Battlefront II's lootbox fiasco. Before Battlefront II's release in 2017 we predicted lootboxes and microtransactions, which came true. The game was massively criticized for its intense over-monetization and pay-to-win mechanics. It even got the attention of Washington, with some legislators calling it an exploitative online casino.
DICE knew they had messed up, and now studio design director Dennis Branvall admits it was their rock-bottom moment. "We hit rock bottom in terms of player sentiment but now it's climbing every month," Branvall told GamesIndustry.biz.
The team has radically shifted Battlefront II since launch. First microtransactions were turned off completely, then they were cosmetic-only. EA has embraced this path with most of its live service games (FIFA however is still lootbox-based). DICE also dramatically evolved Battlefront II with a ton of new modes, characters, maps, and key balances. The newest includes bots, a new co-op mode, and cross-promotion with Episode IX: Rise of Skywalker.
Branvall says Battlefront II has recovered and is in a healthy state now thanks to all the changes. The gambit worked, and EA and DICE are now happy with the shooter's performance.
"We're delivering more content this year than we did in the first year, which is also a sign of a healthy game. The community's happier than it's ever been, especially with the big announcement yesterday. I think we had to take a step back, the team had to look at itself in the mirror a little bit, pick ourselves up from a really rough Christmas for everyone and then just get back to work."
Apart from The Old Republic, Battlefront II is the only big live Star Wars game on the market. The idea is to keep the game alive and keep gamers playing--and paying--over time long enough for all new Star Wars films to tie in, then it can be retired once Disney's contract with EA expires. It's fair to say Battlefront II was only made as a kind of recurring subscription that monetizes hype, nostalgia, and engagement via online play.
Whether the blame is on DICE, EA, or Disney for Battlefront II's initial lootboxes remains undetermined, but DICE themselves tried to create a game that was fun and made money at the same time.
They failed, and had to backpedal on the latter so the former could be established. For a live game to work, it has to be fun first (Fallout 76 and Anthem also failed badly at this).
The next big Star Wars game, Jedi: Fallen Order, is a singleplayer-only endeavor that's meant to fill in the marked gap of new Star Wars games. The next Star Wars project is an smaller affair from EA Vancouver that's set to release in 2020.
Related Tags