Intellivision's new Amico console coming in 2020, has new Ecco game
Intellivision's new low-cost Amico console is made for social play, not enthusiast gaming.

Published Mon, Aug 19 2019 12:14 PM CDT
|
Updated Tue, Nov 3 2020 11:47 AM CST
Gamescom 2019 - Intellivision's new Amico might be doomed, or it might find a low-cost social gaming niche that isn't really available today.
It's been 40 years since Intellivision launched its pioneering games console. Now they're back in the game with the Intellivision Amico, a curious low-cost console aimed not at hardcore gamers, but more social and casual gamers. The Amico is more like an Ouya that delivers family-friendly arcade-style experiences rather than AAA blockbusters like the PS4 or Xbox One. At Gamescom 2019, Intellivision revealed a new Amico trailer that desperately tries to make the system look cool while company head Tommy Tallarico discussed key features.
"Our whole idea is to bring people together. Put them in the same room, having fun, communicating, bringing back that kind of game night. Playing games and having fun, no matter what skill level you are. That's the magic that we want to bring back with the Intellivision Amico," Tallarico said.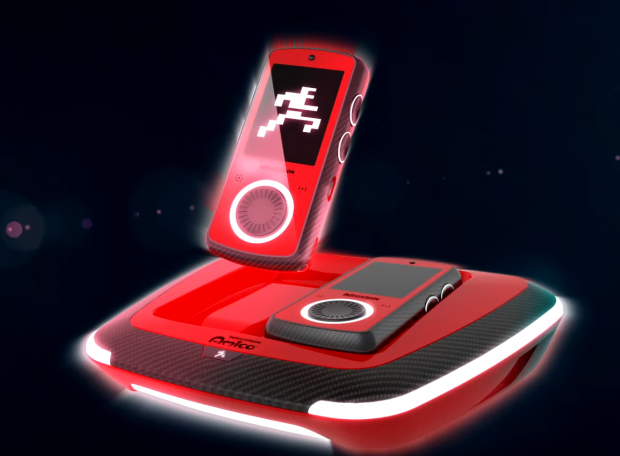 Apart from its core tenants of couch co-op action, the Amico's main strengths are its library. Tallarico says every single game will be 100% exclusive to the system, including a new Earthworm Jim game. The games will also be quite cheap from $2.99 to $5.99 a piece, letting parents sigh in relief.
The library won't have huge AAA hits, though; this is more like an indie machine that sports smaller, more interactive arcade-style games.
In the trailer we saw remastered versions of Breakout, Snake, and even Ecco: The Dolphin. Earthworm Jim was nowhere to be found.
Here's the types of games the Amico will feature:
Motion-controlled recreational sports

Party games

Award-winning board games

Puzzle and word games

Sports games

Card games

Action-arcade games

Original IPs

Retro remasters

Educational games

Health games

Multiplayer interactive story adventures
Overall the Amico is an iffy proposition. It's a $150 system that doesn't really look like it's worth buying yet. The console will release in the tail-end of 2020, possibly getting a small one-month headstart before it gets absolutely annihilated by next-gen PS5 and Project Scarlett sales.
The Amico launches on October 10, 2020 for $150. Check below for more information:
SIMPLE
- Easy Touchscreen, Disc & Motion Controls
- Effortless Menu Screen System
- Games Focused on All Skill Levels
- Karma™ Gaming Engine
- Interactive Lighting Guidance System
AFFORDABLE
- Under $200
- Games $2.99 - $9.99
- 2 Pack-In Controllers
- 5 Pack-In Games
- No DLC, In-App Purchases, Loot Boxes or Ads!
FAMILY
- All Games Rated E for Everyone or E10+
- Encourages Co-Op Participation
- Games EVERYONE Can Play
- No Violence, Bad Language
- Positive Reinforcement Parental Controls
ENTERTAINMENT
- Diverse and Unique Game Library
- Curated Quality Controlled Games
- Connect up to 8 Mobile Devices With Free App
- Top Notch Developers
- Biggest Licensed Intellectual Properties
Related Tags