Dissecting Ubisoft's new Splinter Cell comments
Ubisoft's new Splinter Cell project could be a lot of things other than a singleplayer AAA game.

Published Mon, Aug 12 2019 11:00 AM CDT
|
Updated Tue, Nov 3 2020 11:47 AM CST
Ubisoft says Splinter Cell isn't dead. Company CEO Yves Guillemot promises it'll come back, but when the time is right. Ubisoft's current landscape gives key clues on what that game (or games) could be like).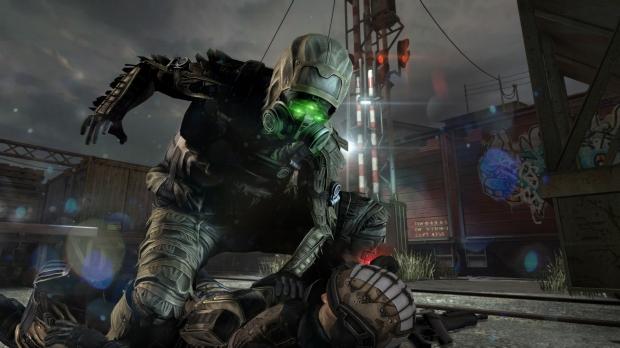 Right now Ubisoft cares about two things: digital and engagement. They go hand in hand. Online-driven digital games breed engagement, which in turn generates revenue from post-release content updates and microtransactions. Ubisoft's made a tremendous digital transformation and regularly rakes in billions every year as a result. Any new game will fold right into this plan, including a new Splinter Cell. As a result, Sam Fisher's next adventure could be quite different.
Arguably, Ubisoft doesn't need to bring Splinter Cell back. The Tom Clancy brand is huge, sure, but it's raking in cash hand-over-fist with The Division 2, Ghost Recon, and Rainbow Six: Siege, live games all (the latter of which is even getting spin-offs). Sam Fisher's singleplayer-driven stealth adventures don't have a place in Ubisoft's roadmap any more, so the series has to morph and change with the times. Sure Splinter Cell had PVP multiplayer as far back as 2004's Pandora Tomorrow, but that's not enough. It needs a strong PVE element to keep gamers playing.
If and when a new Splinter Cell comes out, we should expect it to have one thing above all else: live services. This means an online component that's repeatable and replayable with other gamers across the internet in both PVE and PVP modes, monetization hooks, and a long-winded roadmap of content. It'll assuredly have a campaign-driven story component, but it could also be tied into the multiplayer to bridge MP and SP, similar to Ghost Recon Wildlands and Breakpoint.
That might be hard to pull off in a traditionally singleplayer-esque stealth game with emphasis on closed, contained environments with nuanced reactions to what you do--or what you don't do.
Now, it's possible that Ubisoft could do with Splinter Cell what it did with Assassin's Creed. Basically Ubi injected live services into AC but kept it a singplayer-only game. Players can buy convenience options like gear and crafting mats and take part in special timed online events.
But it's far more likely Splinter Cell would fold into the established Ghost Recon mythos and online frameworks of Rainbow Six and Ghost Recon. Fisher could show up as a cameo guest, and the new Splinter Cell game should borrow from the multiplayer server-based infrastructure of those two previous games (especially Recon).
Again, this is all gleaned from Ubisoft's current trajectory and business model. It's not a direct result of examining Guillemot's words. But let's do that now.
Here's what the Ubisoft co-founder said in a recent interview with GamerSky:
"On Splinter Cell, there will be some new type of experiments, but more on different devices. We are working a lot on the brand today to come back at one point. We can't say when because as you know it takes time, but we have to find which time is right to come back."
That first part is extremely important. Different devices. Ubisoft hasn't had a lot of luck with mobile games, at least in the sense of big hits. We could simply get a big Splinter Cell mobile game tie-in, or perhaps some sort of companion app to a live game. The experimental part obviously refers to injecting live elements into the series and trying to see what fits best.
We have no clue what Ubi is doing specifically, but we at least know it'll have something to do with online content.
As for when the time is right, that means two things: finding a hole in Ubisoft's games roadmap, and when the game's actually in a position where it'll A) make money over time and B) re-capture the original Splinter Cell audience. Ubisoft has to marry points A and B together, which is pretty tough. Also remember Ubisoft is pretty busy right now and has multiple projects in flux, especially those that've already released.
So far we have:
Far Cry series

Assassin's Creed series

Rainbow Six: Siege

The Division 1 & 2 (primarily 2)

Rainbow Six: Quarantine

Ghost Recon Wildlands and Breakpoint

For Honor
Ubisoft can say it's working on a new Splinter Cell, but based on all of these things it could be a while before we actually see it. The company is simply working on a ton of projects at once, whether it be new games or maintaining live operations in catalog games.
If and when it happens, don't be surprised if it's a mobile game, a live game with tons of online content, or even a muddled hybrid of some sort.
Related Tags