With its swappable components, Intel's new modular compute tech could change the face of gaming.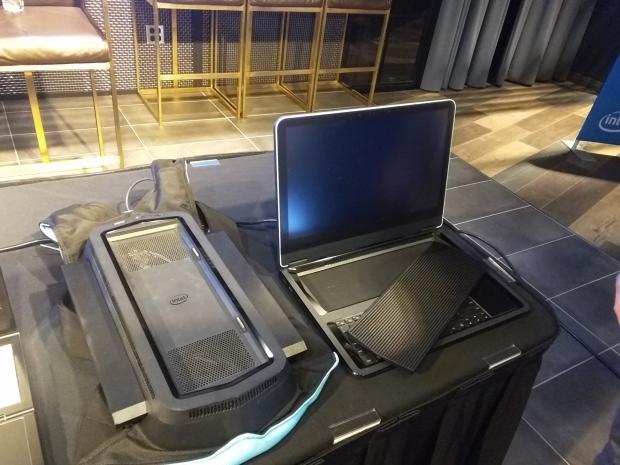 Intel brought something special to last weekend's IEM Chicago event: two futuristic concept designs that may revolutionize both productivity and gaming. I saw the unique Honeycomb Glacier with its folding hinges and dual-screen design, as well as Intel's new futuristic modular compute tech. The latter has some far-reaching implications that could usher in a new era of convenience for gaming as a whole.
Intel's vision with its compute tech is simple: swapping between multiple platforms without having to buy them individually or sacrificing performance. This is made possible by Intel's unique compute platform. What if you could take the guts out of your desktop and slap them into a laptop at will? That's the idea here. Essentially Intel packed a computer in a blade-like form-factor that can be detached and slotted into multiple modular designs.
The blade--which houses a full CPU, GPU RAM and other components--can transform into many things and isn't static like today's hardware. It can fasten into a portable shell to become a laptop, or housed in a chassis to become a desktop, or even slotted into a backpack as a self-contained all-in-one mobile VR gaming platform. Spec info was a bit light. The blade itself features the same eighth-gen Core i7 CPU and Radeon graphics that matches the Hades Canyon NUC, and it has a 100W TDP.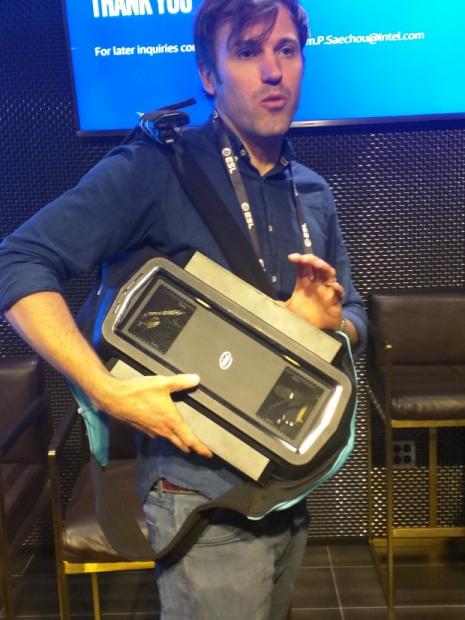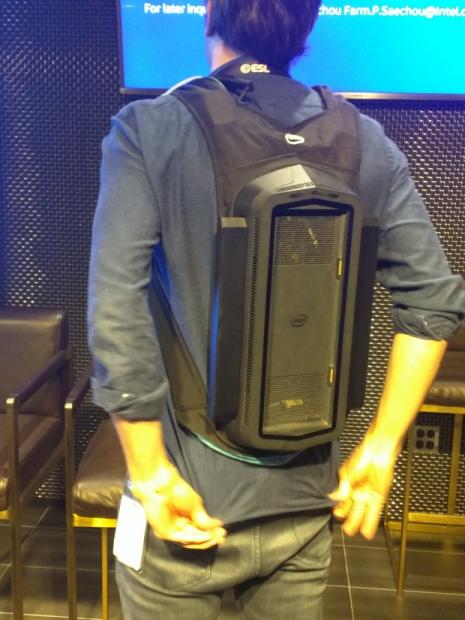 Intel engineer David Collins demonstrates the VR backpack peripheral.
The potential here is enormous. Accessibility is a big roadblock for most consumers when it comes to games, and Intel is attempting to kind of merge platforms with a single compute unit could lead to big things. In a few years' time we might see modular hardware unifying multiple platforms together with a more cohesive fabric, marrying productivity, gaming, accessibility, and performance together. Platforms like desktops, laptops, consoles and VR could merely become modular peripherals for use with centralized core hardware.
Intel could even make some kind of hybrid PC-console system as one of its modular dock/shells.
The hardware was saw was a concept prototype and isn't ready for sale and probably won't be for a while. Sadly we didn't actually get to see the VR backpack or laptop in action (Intel didn't turn it on during the show). There's a chance it'll never see the light of day, too, but the idea itself could resonate to other OEMs and create something quite unique and transformative in the industry.