PS4 Slim $249 sale includes Horizon: Zero Dawn, Spider-Man
Sony knocks $50 off a PS4 with two great console exclusives.

Published Mon, Jul 15 2019 2:20 PM CDT
|
Updated Tue, Nov 3 2020 11:48 AM CST
Amazon's Prime Day Deals discount a PS4 Slim model to $249, complete with two must-have console exclusives.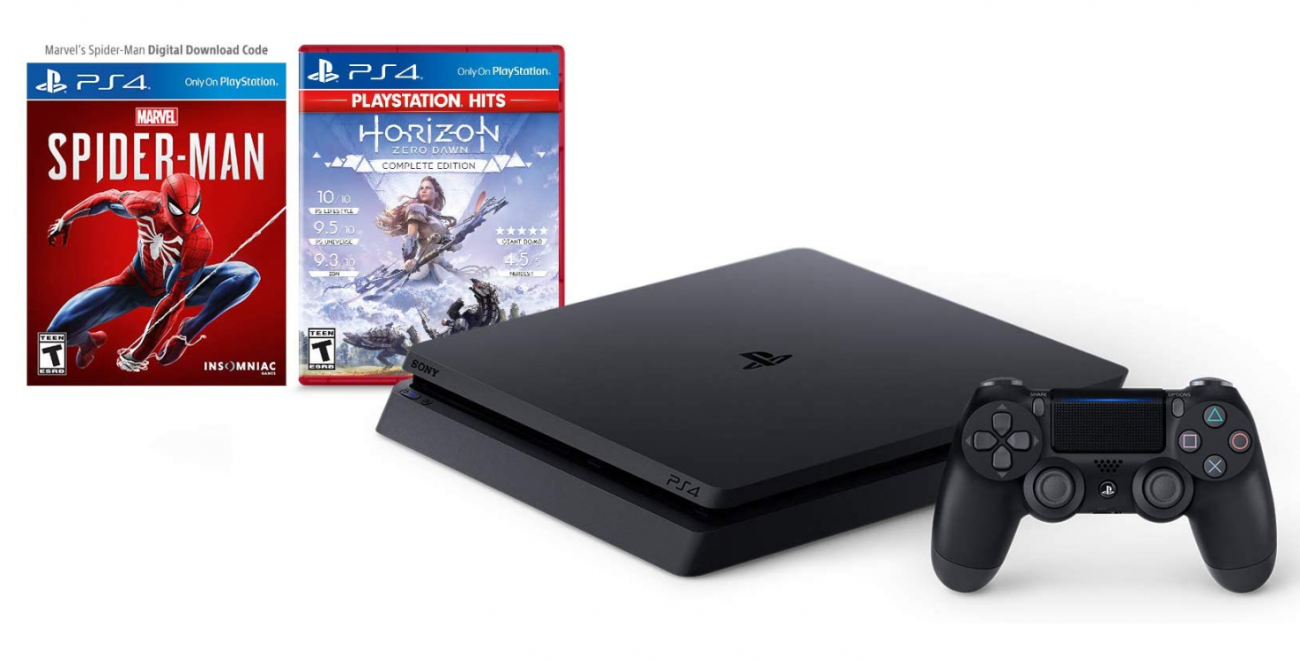 Prime Day is going on now and we're seeing some impressive deals on games hardware, including this $249 PS4 Slim bundled with Spider-Man and Guerrilla's excellent Horizon: Zero Dawn action RPG. The sale shaves off $50 from the console's base price and spices things up by tossing in two must-play exclusives to boot.
Remember newer PS4 Slim revision isn't beefier than the original 2014 launch model, but it runs cooler, quieter, and is overall more efficient. It's kind of a mid-cycle refresh with a shrunken 16nm APU, whereas the PS4 Pro's GPU horsepower is double the base model with 4.2 TFLOPs of compute power.
The PS4 Pro is likewise on sale for $299 with the same games, which is just $50 more. If you're in the market for a PS4 definitely go with the Pro. It can play games at upscaled 4K 30FPS resolution with HDR visuals, and even supersamples graphics and boosts frame rates on 1080p displays.
Sure the PS5 is on the way soon (coming in 2020 or thereabouts) but new games like Death Stranding, Ghosts of Tsushima, and The Last of Us 2 make the PS4 an appealing and viable system. Plus there's a massive library of catalog games to go back and dip into.
And of course all PS4 games will be playable on the PS5, so anything you buy now will translate directly over to the new system. Sony's eager to make the transition as smooth as possible and doesn't want to pull a fast one on consumers late to the game.
Check the link icon below for the deal (disclosure: we may receive a portion of the proceeds from every sale).
Related Tags