New PS4 Slim features shrunken 16nm APU
Sony's new PS4 Slim features a smaller 16nm chip for boosted power efficiency and reduced power draw.

Published Mon, Sep 5 2016 12:45 PM CDT
|
Updated Tue, Nov 3 2020 11:58 AM CST
Sony's new thinner and cheaper PS4 Slim console refresh features a shrunken 16nm APU chip to reduce total console power draw, boost power efficiency, and save on space.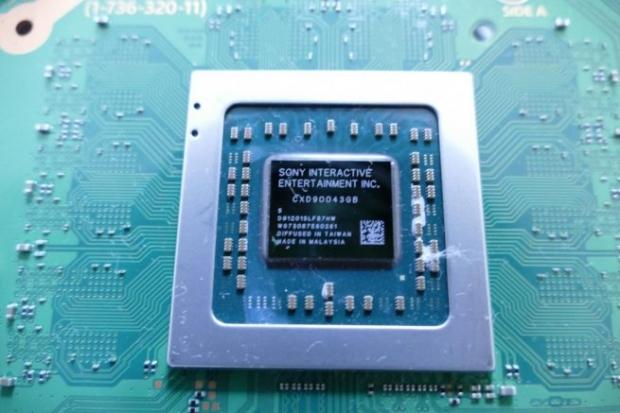 After watching Tech-Links' recent PS4 Slim teardown video I noticed something interesting: the PS4 Slim's APU had a different serial number than the current PS4 model. After some digging around, I compared the PS4 Slim's chip with the PS4 in a side-by-side comparison, noticing an obvious size discrepancy when comparing transistor relation size. The PS4 Slim's chip was smaller, and I wasn't the only one who noticed it.
The PS4 Slim's APU has been reduced to 16nm from the PS4's original 28nm chip size, culminating a reduction of about 57%. This means the new slimmer model will draw less power and run cooler than current PS4s, which is a pretty big deal for console owners. The PS4 Slim's PCB has also been redesigned and is much more minimal, and the console only draws 160W of power versus the vanilla PS4's 200W. Although the PS4 Slim enjoys a smaller chip that's more power efficient, don't expect any actual jumps in power: the PS4 Slim does match the Xbox One S' 16nm chip size, but it doesn't have an overclocked GPU, play 4K video, or upscale games to 4K.
Besides the new 16nm chip, 5Ghz 802.11ac Wi-Fi support, a more efficient 160W built-in PSU, and a smaller chassis, the PS4 Slim is basically exactly the same as a normal PlayStation 4. The smaller unit is clocked at the same 1.84 TeraFLOPS of GPU performance power based on 18 CUs of AMD's GCN tech at 800MHz, and there are reports that it sports the same 1.6GHz 8-core Jaguar CPU and the same 8GB GDDR5 unified memory at the same 176 GB/s.
Remember that Sony has officially confirmed the higher-end PS4 "Neo" console, which will support native 1080p 60FPS gaming as well as 4K upscaling. Sony is expected to unveil the PS4 "Neo" and the PS4 Slim in two days during the PlayStation Meeting event, which kicks off on Wednesday, September 7 at 3PM EST.
Check below for more comparison shots of the PS4 Slim vs the PS4, as well as the teardown video of the new slim model.
Original PS4 specifications
28 nm APU

CPU: 8 Jaguar Cores at 1.6GHz
GPU: AMD GCN, 18 CUs at 800MHz (equivalent to Radeon HD 7850)
Memory: 8 GB GDDR5, 176 GB/s
Related Tags