AMD pressured to lower Navi pricing because of NVIDIA SUPER
AMD's new Radeon RX 5700 XT and RX 5700 receive price cuts before launch, pressured by SUPER.

Published Fri, Jul 5 2019 4:39 AM CDT
|
Updated Tue, Nov 3 2020 11:48 AM CST
AMD looks to have reduced the price of its next-gen Radeon RX 5700 XT and Radeon RX 5700 in the last hours before its launch on 7/7, with VideoCardz reporting that AMD has reportedly dropped the Radeon RX 5700 to $399 down from $449 and the RX 5700 to $349 down from $379.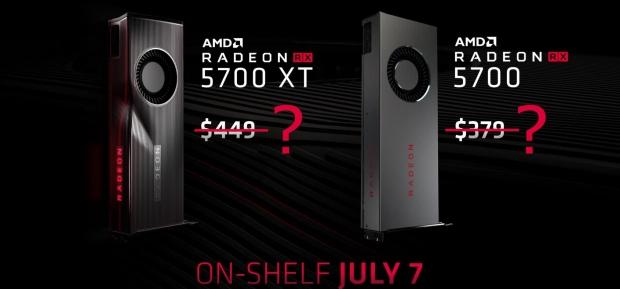 This move makes sense as it's something I was genuinely concerned about at the AMD Next Horizon Gaming event and expressed my dismay to other tech journalists and AMD themselves, saying that at over $399 the new RX 5700 XT would be dead in the water to whatever SUPER would end up being. Days later NVIDIA unveiled SUPER to a very limited number of press in LA at E3 2019 which I attended, and it was then that it was absolutely confirmed without a doubt that Navi was in trouble at $449.
If AMD is genuinely pricing the new Radeon RX 5700 XT at $399 then it is in a much better position to compete against the new GeForce RTX 2060 SUPER from NVIDIA, we just have to wait until our NDA expires on 7/7. Until then, back to benchmarking my Navi GPU samples -- and if you didn't see it, I just tested NVIDIA's new GeForce RTX 2070 SUPER graphics cards in NVLink mode!
Related Tags