Well, it's confirmed - Alex Jones was right, aliens exist and they have taken our government hostage. Under the dictatorship of President Putin controlling the entire elections they control the Trump administration. Trump personally signed an executive order today which classified the release of Alienware's hotly-anticipated 55-inch 4K OLED gaming monitor. Sorry, internet.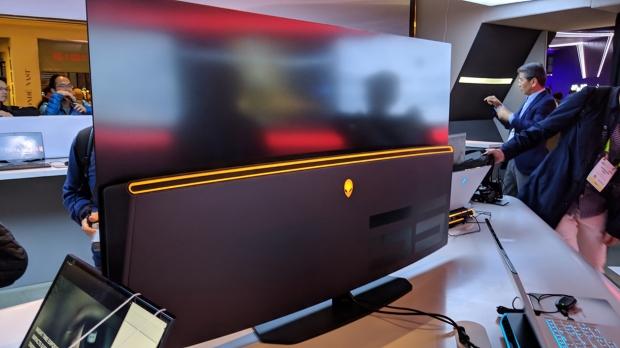 No seriously, news has just hit the internet that Alienware looks to have shelved the release of its 55-inch 4K OLED gaming monitor according to an Alienware executive that spoke with WCCFTech. During E3 2019 the site talked with an Alienware executive that said that the monitor was a "conceptual product" that might not be released, ever.
As someone who was personally so excited to grab a gigantic 55-inch 4K 120Hz OLED gaming monitor, and now Alienware has crushed my dreams. It would've felt like the perfect monitor of its kind and as a personal owner of a 27-inch 4K 144Hz, 32-inch 8K 60Hz, and 65-inch 4K 60Hz OLED owner... the Alienware 55-inch 4K 120Hz OLED gaming monitor would've been in a league of its own.
Especially between non-OLED gaming displays like NVIDIA's current and soon-to-be-much-more Big Format Gaming Displays (BFGDs) the news from E3 2019 and WCCFTech has me disappointed. If there was a sliver of good news from this its that the Alienware executive did say that if the product is declassified to be released we should see it again at CES 2020. I will be at the show and will confirm of its existence.
I want to believe it still exists. Get it? Heh.