Fallout 76 human NPCs were always planned, coming in new DLC
Fallout 76 is morphing into an actual Fallout game.
Published
2 minutes & 4 seconds read time
E3 2019 - Human NPCs are returning to Fallout 76, Bethesda confirmed during its E3 2019 panel.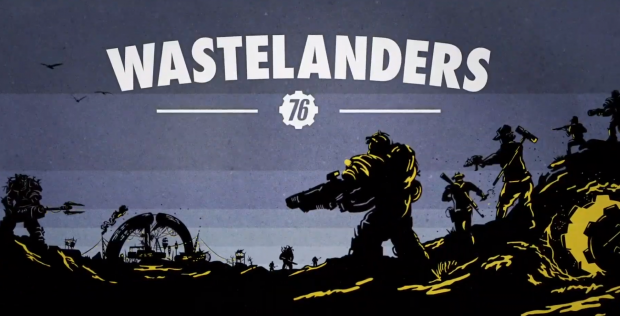 One of the biggest problems Fallout 76 has is its lack of NPCs. It's these characters who give players agency in singleplayer games, and their absence in the new failed online-only Fallout was quite jarring. Bethesda is eager to turn things around, so they're listening to players and adding NPCs back into the game. But it turns out NPCs were always planned for Fallout 76...they just weren't there at launch.
In the Fall, NPCs are returning to Appalachia with Fallout 76's new free Wastelanders expansion. "That's right! Human NPCs are coming to Fallout 76," project lead Jeff Gardiner said on stage at Bethesda's E3 show. NPCs will fight alongside or against you, complete with faction choices and consequences. They'll dish out quests and NPC dialog will even have skill checks like an actual Fallout game. "And not just NPCs, but a full questline, new rewards, and full dialog trees," Gardiner affirms.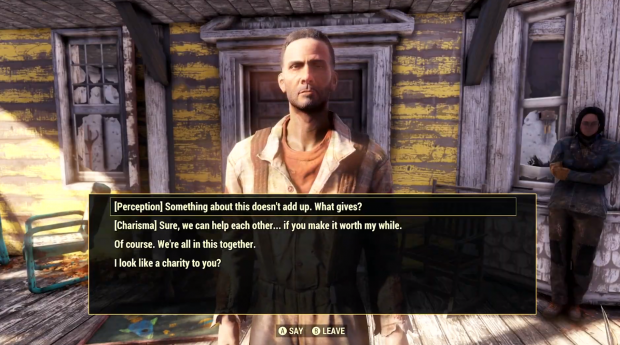 "We've been working on our biggest update yet. It's called Wastelanders, and it'll fundamentally change the game. This is a long term story we're telling. Year One was about the Vault doors opening and all of you settling the wasteland.
"Year Two is about people coming back to reclaim it. Like previous Fallout games, these characters have their own stories and goals. It's up to you to choose how to interact with them and live with those consequences," said co-studio director Tom Mustaine.
This strongly hints NPCs were part of the plan all along and Bethesda wanted to test things out before the rolled them back in.
Fallout 76 of course failed to bring the same immersion as its singleplayer forebears for many reasons, one of which was a severe disruption in actual meaningful play. As it turns out, playing with randoms online is just half the puzzle--the remainder comes from interacting with dynamic character setpieces across the world.
The new Wastelanders DLC will be entirely free when it launches in the Fall on all platforms. Check below for more info about Fallout 76's upcoming expansion roadmap:
Howdy, Neighbor!

Wastelanders is a massive free annual update to Fallout 76 that fundamentally changes the Wasteland. One year after the opening of Vault 76, other humans have returned to Appalachia.

Factions of Settlers and Raiders aim to make the world their own and claim a rumored fortune. Embark on a new main quest of choice and consequence, interact with characters and their unique stories, discover the faction settlements of Crater and Foundation, and collect powerful new weapons and armor.

Your choices decide their fates. Coming Fall 2019.
Related Tags