Apple best-specced Mac Pro could cost up to $50,000
Apple unveils its new Mac Pro, which when specced with ridiculous hardware could cost over $35K.

Published Mon, Jun 3 2019 8:56 PM CDT
|
Updated Tue, Nov 3 2020 11:48 AM CST
Apple has just unveiled its new Mac Pro and holy balls it is a beast when fully-specced. The bare minimum Mac Pro will begin at an already high price of $6000, but the company was mum on the highest-end specs of its new PC.
The base model Mac Pro includes up to a 28-core Intel CPU and support for up to a huge 1.5TB of RAM (12 x 128GB DIMMs) as well as the world's most powerful graphics card courtesy of AMD in the new Radeon Pro Vega II. It is one of the most amazing PCs ever built, and that is coming from someone like me who is quite anti-Mac and super-enthusiast. Holy balls this PC is amazing though, there's no doubt about it.
Let's break it down into its specs:
Base Specs:
CPU: Intel Xeon W - 8 cores @ 3.5GHz
RAM: 32GB (4 x 8GB)
GPU: AMD Radeon Pro 580X
Video Processing Hardware: N/A
SSD: 256GB SSD
Top Specs:
CPU: Intel Xeon W - 28 cores @ 2.5GHz
RAM: 128GB (12 x 128GB DIMMs)
GPU: AMD Radeon Pro Vega II Duo (dual-GPU)
Video Processing Hardware: Afterburner + ProRes and ProRes RAW accelerator card
SSD: 4TB SSD
Apple's new Mac Pro packs 8 x expansion slots that include 4 x dual-slot and 3 x single-slot ports, with a half-width PCI slot that will be used for I/O. This single-slot port will feature 2 x Thunderbolt 3 ports, 2 x USB 3.0 ports and 2 x 10GbE ports. So you won't have any connectivity issues when it comes to the Mac Pro, right?!
CPU
When it comes to the CPU we have a minimum 8-core Intel Xeon W processor that can be replaced out with a much faster 28-core Intel Xeon W chip that will suck down 300W of power. But get this, the 300W of power is passively cooled -- even with Apple guaranteeing 100% maximum clock speeds under full load, thanks to Apple's intuitive and truly great cooling system.
RAM
Apple has 12 x DIMM slots inside of the new Mac Pro which means it can support anywhere from 32GB up to 1.5TB of RAM... yes, 1.5 terabytes of RAM. This is done through 12 x 128GB DIMMs which will also arrive in ECC (Error Checking & Correction) with 6-channel support at up to 2933MHz.
GPU
This is where things get interesting: Apple is offering the Mac Pro with a much weaker AMD Radeon Pro 580X with its base system, but can scale up to the new Radeon Pro Vega II graphics cards which offer truly insane performance. The Radeon Pro Vega II is a dual-GPU design based on Vega with 32GB of HBM2 per chip for 64GB of HBM2 per card and when in a dual graphics card configurations you'll have 4 GPUs for a total of 128GB of HBM2. Again, yes... 128GB of HBM2 video memory in a single system.
Video Processing Hardware
Apple isn't making the new Mac Pro for gamers, but rather professionals who are going be working with ridiculously large image and video workloads. This is why the option for a custom hardware accelerator for the new Mac Pro called Afterburner comes into play. It has been exclusively designed for video processing loads, with it supporting 3 simultaneous streams of ProRes raw video at 8K. Dropping down to 4K the accelerator can handle a huge 12 streams smashing 6 billion pixels per second.
All of this will come in a beautifully designed machine (perfectly explained in the video above, seriously -- watch it) that can come in at quite an insane price. The Verge has broken it down into:
ONE (1) MAC PRO: $6,000
TWELVE (12) 128GB DDR4 ECC RAM STICKS: $17,867.88
TWO (2) 2TB SSDS: $2,400
ONE (1) 2.5GHZ 28-CORE INTEL XEON W PROCESSOR: APPROXIMATELY $7,453
TWO (2) AMD RADEON PRO VEGA II GPUS: PRICE UNKNOWN, BUT LET'S SAY $12,000, MINIMUM
ONE (1) APPLE AFTERBURNER ACCELERATOR CARD: PRICE UNKNOWN
ONE (1) APPLE PRO DISPLAY XDR MONITOR: $5,000
ONE (1) APPLE PRO STAND FOR THE PRO DISPLAY XDR MONITOR: $1,000
ONE (1) APPLE MAGIC KEYBOARD AND ONE (1) MAGIC TRACKPAD 2: $228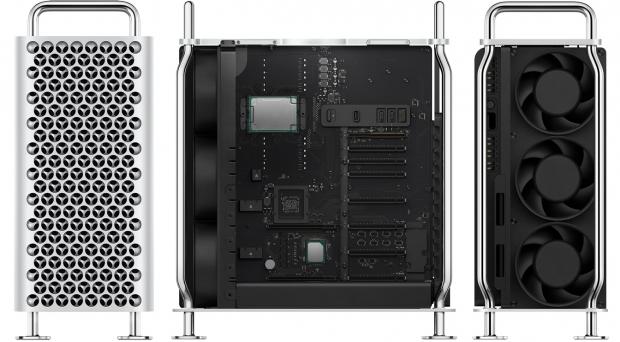 Related Tags