Capcom hits record earnings as game sales skyrocket
Capcom's on a winning streak, sales, operating income, and profit are all at record highs.
Published May 18, 2019 12:31 AM CDT
|
Updated Tue, Nov 3 2020 11:48 AM CST
2 minutes & 55 seconds read time
Capcom is doing extremely well right now: sales, operating income, and total profits are all at record yearly highs.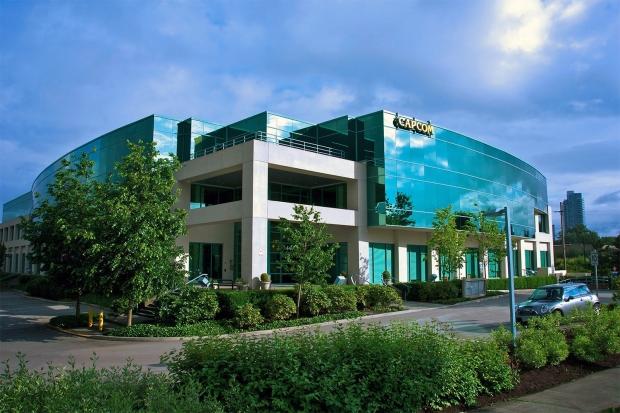 Capcom just reported stellar results for its FY2018 period, showing strong growth across its multi-faceted games business. Dedicated game sales were to a new three-year high of 25.3 million units, nearly half of which were from Monster Hunter World's titanic 12 million sales. Other games like the Resident Evil 2 REmake sold 4 million units, and Devil May Cry 5 pushed 2 million copies.
Thanks to Capcom's forward-thinking strategy that folds digital, online monetization, DLC and physical full games sales together in a cohesive plan, the company managed to push its earnings to new record levels. Thanks to rapid game sales, Capcom made an impressive 100.03 billion yen ($901.99 million) in net sales during the fiscal year ended March 31, 2019. Operating income was up a strong 13.1% YoY to 18.14 billion yen ($163.6 million). Total profits for the year sat at 12.51 billion yen ($113.17 million), up a strong 14.8% YoY.
In this business, the popularity of major title Resident Evil 2 (for PlayStation 4, Xbox One and PC) exceeded expectations, driving the Company's business performance. Devil May Cry 5 (for PlayStation 4, Xbox One and PC) targeted overseas markets and also performed strongly, backed by consistent demand.

Additionally, the Monster Hunter series contributed significantly to improving profits: flagship title Monster Hunter: World (for PlayStation 4 and Xbox One), which was a phenomenal success in the previous fiscal year, maintained popularity through the expansion of its user base, while the Steam version for PC also performed solidly, boosting profits; meanwhile, Monster Hunter Generations Ultimate (for Nintendo Switch) enjoyed robust sales through its release in markets outside of Japan.

Furthermore, Mega Man 11 (for PlayStation 4, Nintendo Switch, Xbox One and PC) and Street Fighter 30th Anniversary Collection (for PlayStation 4, Nintendo Switch, Xbox One and PC) performed well. In addition, high-margin catalog titles, including Resident Evil 7 biohazard (for PlayStation 4, Xbox One and PC), increased sales through their enduring popularity.

The resulting net sales were 82,982 million yen (up 11.9% from the previous fiscal year) and operating income was 23,315 million yen (up 22.0% from the previous fiscal year)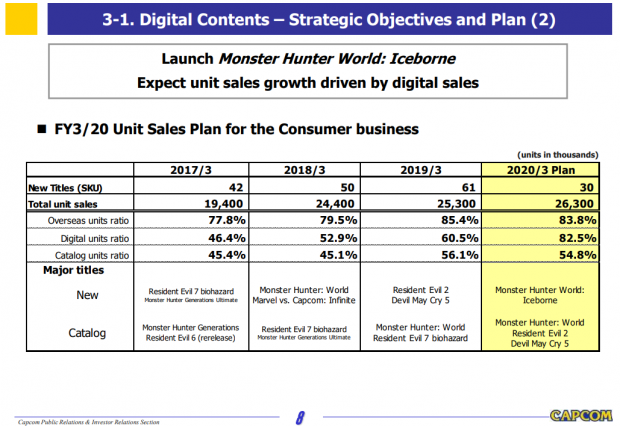 This fiscal year, FY2019, sees Capcom slowing down considerably insofar as games releases.
The company only plans to release one major game during the year, but it's a big one: Monster Hunter World's massive Iceborne expansion. The DLC will be $40 and is expected to dwarf the main game's content while re-engaging core users.
Capcom appears to be battening down the hatches and waiting for the storm of next-generation consoles. It currently has multiple big AAA games in development, but none of them will come out until after March 2020 and should accompany the release of Sony's next-gen PlayStation 5 and Microsoft's Xbox Scarlett family of hardware.
We've written an expansive write-up detailing all the clues behind Capcom's next-gen ramp-up.
This thin release slate won't affect Capcom's bottom line. In fact, it expects profit to jump 11.5% to 14 billion yen ($126.23 million) in FY2019, and operating income is expected to rise too. The company says its stronger emphasis on digital engagement via Monster Hunter, DLCs for existing catalog games, and a host of digital-based re-releases will help drive these highs.
There's no details on what Capcom is working on, and what games it'll release outside of Iceborne in FY2019, but we can guess. Capcom should launch some digital-based re-releases, a bunch of new DLC for older games, and maybe even a few collections or two across PS4, Xbox One, PC and Switch.
Capcom's FY2018 earnings at a glance
Net Sales - 100.03 billion yen ($901.99 million), up 5.8% YoY
Operating Income - 18.14 billion yen ($163.6 million), up 13.1% YoY
Total Profit - 12.51 billion yen ($113.17 million), up 14.8% YoY
Capcom's FY2019 earnings forecast
Net Sales - 85 billion yen ($766.4 million), down 15% YoY
Operating Income - 20 billion yen ($180.3 million), up 10% YoY
Total Profit - 14 billion yen ($126.23 million), up 11.5%
Related Tags