82-year-old gamer Skyrim Grandma will be in Elder Scrolls 6
Skyrim Grandma, the 82-year-old YouTuber and Grandma will be forever immortalized in The Elder Scrolls 6.

Published Sun, Mar 31 2019 7:19 PM CDT
|
Updated Tue, Nov 3 2020 11:49 AM CST
Shirley Curry is otherwise known as Skyrim Grandma, and is an 82-year-old gamer that plays Skyrim. She began putting videos of herself playing the game on YouTube and quickly became popular online.
Her dedication and love for the game saw her garner a huge following on YouTube with over 500,000 followers and if you sit and watch a few of her videos, she is super adorable when playing games. There's one video I watched of Skyrim Grandma seeing a waterfall in Skyrim and taking the time to appreciate it, when so many gamers will run past it it's humbling to see other games like Shirley admiring something like a waterfall in a game.
Skyrim Grandma made that big of a splash in the world of Skyrim that gamers made a petition to see her immortalized in The Elder Scrolls 6 as an NPC, unique character, or location. So during The Elder Scrolls 25th anniversary stream, developer Bethesda Softworks announced she will be made into an NPC for The Elder Scrolls 6.
Shirley commented on the news, where she said: "This means a lot to me because I would be extremely happy to know that somebody else was playing with my character in a future Elder Scrolls game." In the video you can see Curry being photographed and scanned into the computer for artists to create a virtual version of her".
She even visited Bethesda as a special guest, meeting Todd Howard in person who said her visit was "a huge, huge treat" to everyone at the studio and that "everyone was super excited" to see her. I'm not going to lie, the above video bought a tear to my eye. This is such a sweet story.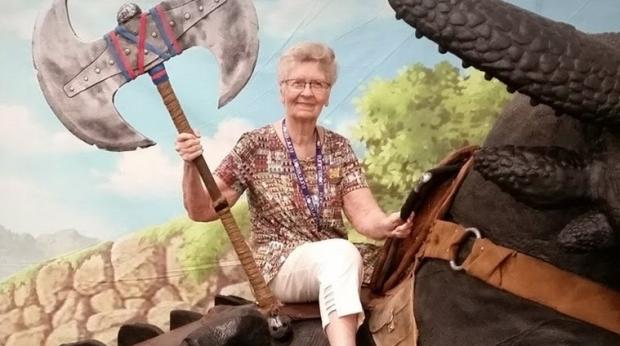 Related Tags