Super Smash Bros. Ultimate glitch breaks Donkey Kong punch
Poor Donkey Kong, even after that long charge for his punch it STILL sometimes doesn't hit.

Published Mar 27, 2019 4:00 AM CDT
|
Updated Tue, Nov 3 2020 11:49 AM CST
Super Smash Bros. Ultimate has been out for quite some time now, and players are moving through many different aspects of the game discovering combos for all the different characters. What has also been discovered though, is glitches...
Due to the overall increase in speed in Super Smash Bros. Ultimate, many of the heavy characters received an overall buff when compared to the last game. One of these characters was Donkey Kong, he is an extremely dangerous fighter now with a well rounded kit and a lot of damage packed behind it. One of Donkey Kongs signature moves is his charge up Donkey punch (neutral B), as it deals a massive amount of damage. This move has attracted a lot of attention as it has been discovered that it harbors some glitches that are not beneficial to the player.
In a reddit post on the Super Smash Bros subreddit, BaneGanondorf goes into detail on how Donkey Kong is currently broken in not one, but two different ways. BaneGanondorf explains that since Ultimate is a 2D platform fighter with character moves that are animated in 3D, this can sometimes mean that moves that are meant to hit sometimes miss. Unfortunately, Donkey Kong's 'Donkey Punch' suffers from this tragically. The above video goes into depth for why this glitch is happening, the Smash community has speculated that it is due to the punches animation along the Z-axis, and it not registering as a 'hit' in certain scenarios.
Not only is the punch not correctly hitting, but neither is the invulnerability armor that Donkey Kong is meant to receive after the punch has been pressed. This glitch has been reported to sometimes occur when Donkey Kong releases his punch mid-air. The Smash community is coming together to support the fixing of these glitches and are using the hashtag #fixpunch to attract Nintendo's attention. Hopefully in the coming 3.0 update for Smash Ultimate these problems are fixed.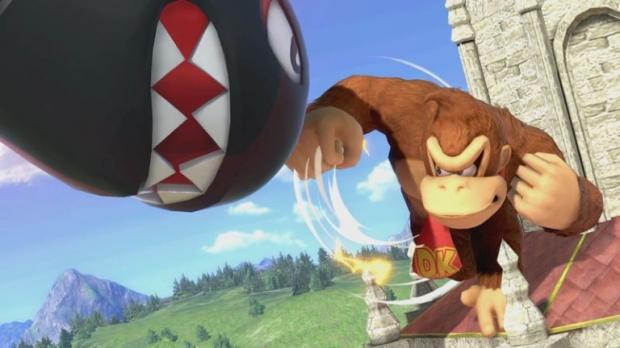 Related Tags