Switch may get console-based hardware upgrades, not handheld
Instead of forking with two separate SKUs, the Switch could get an add-on hardware path to boost home console gaming.
Published Jan 2, 2019 3:25 PM CST
|
Updated Tue, Nov 3 2020 11:49 AM CST
3 minutes & 42 seconds read time
Although key analysts predict Nintendo could launch a handheld-only Switch variant in 2019, we make some predictions that the upgrade path will go the other way instead.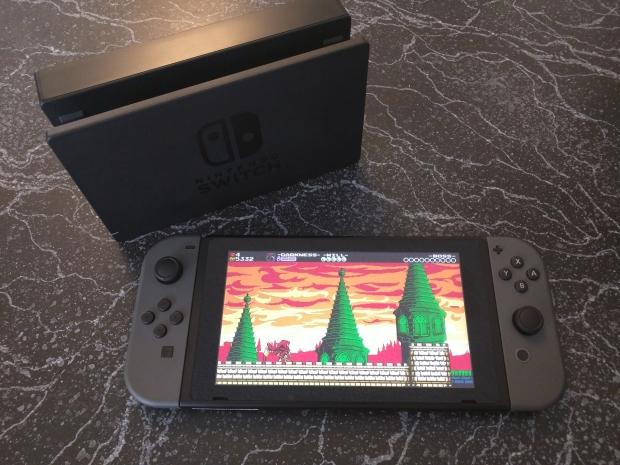 History tells us that Nintendo does best when it simultaneously operates two main hardware platforms: handhelds and consoles. But the Switch, which combines both handheld and console gaming into a single hybridized device, kicks off a new age for the Japanese titan. By joining home console gaming with on-the-go handheld portability, the Switch redefines Nintendo, and so we should redefine our expectations from the company. Although many predict a cheaper, kid-friendly Switch will be offered sometime soon, I think these predictions are on the wrong side of the spectrum (the handheld side versus the home gaming side).
The more I think about Nintendo's business moves and the Switch's potential, I think the Switch's future major hardware iterations will be focused more around docked gaming. There's many reasons for this, including Nintendo joining its handheld and console dev teams together, its partnership with NVIDIA and using the Tegra X1 chip, and a more synergized future-proof roadmap. But it comes down to this main point: instead of getting more handheld iterations, the Switch could get Expansion Pak-style add-ons that plug right into the dock and boost power.
Switch Mini might not happen
Remember that Nintendo has now merged its handheld and dedicated console development teams into one cohesive unit. This was always the eventual plan, even during the 3DS and Wii U days, and both systems were foundational stepping stones for the hybrid Switch system.
It's no surprise that first-party 3DS game development has slowed down quite a bit since this merger, especially given the system's lifespan. While Nintendo says it will support the 3DS for the foreseeable future, it's clearly focusing nearly all its manpower and future on the Switch.
Re-introducing a handheld-only system would fork Nintendo's development process and add extra work. Remember the Switch runs differently when its docked versus in handheld mode--it's performance is boosted when docked, and lessened while on-the-go--so developers would need to compensate for this discrepancy. This differential performance due to the system's relatively weaker NVIDIA Tegra X1 chip has already been a thorn in many developer's sides, especially those who are porting third-party games from other platforms.
Furthermore, if the JoyCons are fixed to the system as Pachter predicts, it would break the console's entire selling point even more. The Switch is built to play with friends whether you're on-the-go or at home, all thanks to its detachable JoyCon remotes. This makes the Switch a veritable portable engagement machine that spreads the Nintendo brand wherever gamers go and introduces regular consumers to the system via inadvertent interactions.
Switch iterations could go the other way: home console upgrades instead of handheld
All in all, I think Nintendo could do something with the Switch, but it might not be what analysts think. I think Nintendo could push towards the home dedicated gaming segment versus branching farther into handheld territory.
It's possible the Switch will keep its current SKU and Nintendo will release a softer upgrade with small enhancements instead of a full-on iterative change, such as the jump from the PS4 to the PS4 Pro.
To do a big jump like this, Nintendo could rely on an add-on attachment box called a Supplemental Computing Device. Think of it as a big Expansion Pak that you hook up to your Switch's dock to boost its power. Nintendo patented this box back in 2016 and its expected to boost processing power as well as internet connectivity, which could open huge pathways to on-demand cloud game streaming and even let gamers borrow power from NVIDIA's GeForce Now servers.
Nintendo's Japan branch is already experimenting with cloud-based game streaming on the Switch. They're also experimenting with new games hardware, too.
This could go oh-so-many ways for Nintendo's future. Teaming up with NVIDIA seems to be a tactical decision that extends far beyond the Tegra X1 and we could many interesting developments for the Nintendo Switch brand.
We could see Nintendo launch its own game-streaming service as part of the Switch Online infrastructure and ecosystem. It could also create a huge engagement-driven online webwork by letting gamers share each other's connections and doling out rewards, which is one of the main functions of the Supplemental Computing Device.
Ultimately I think there's more possibilities with home console gaming than there is with handheld. Sure Nintendo could re-release a more powerful Switch system for, say, $359 that features more RAM and a tweaked processor that would affect both handheld and on-the-go gaming. That's always a possibility. But given the reasons I've outlined here, I'm not so sure a Switch Mini will actually happen.
Related Tags