Following a massive holiday sales spike, the Nintendo Switch is dominating earnings and driving sales revenues to strong heights.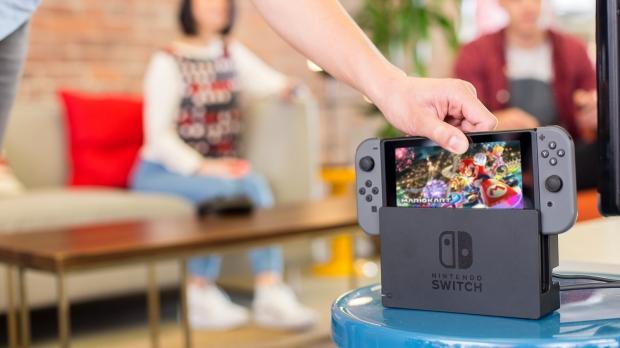 After scanning Nintendo's latest nine-month financial earnings, the numbers told me something interesting (as they're wont to do). The Switch isn't just making most of the company's quarterly revenue, but a disproportionate amount of it, eclipsing other segments by quite a bit. Switch hardware and software earned 849 trillion yen in the nine month period from April to December 2018, or 85% of Nintendo's total net sales revenues of 997 trillion yen ($3.7 billion). The handheld-console hybrid made 88% of total dedicated video game segment sales.
Nine month Switch platform earnings are up 30% year-over-year, and Switch software and hardware only made 44% of last year's nine month sales revenues.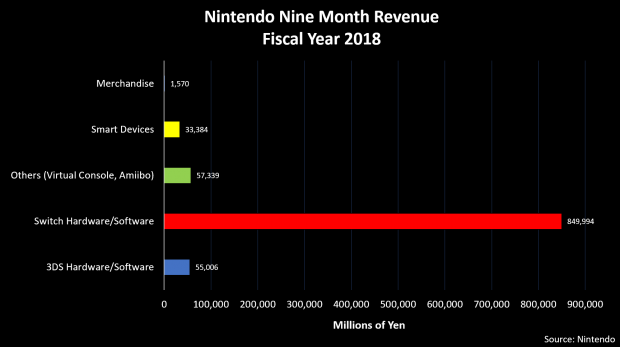 These figures are a direct result of the Switch's impressive sales performance over the holidays. Nintendo managed to sell 9.42 million consoles during Q3'18, pushing total cumulative worldwide Switch sales past 32 million. Software was a monumental driver for earnings during the Q3 period and helped spark nine-month earnings (Q1'18 - Q3'18) growth.
Nintendo released three marquee titles during the holiday quarter that all sold more than 5 million units. Super Mario Party moved 5.3 million copies, Pokemon Let's Go Eevee and Pikachu sold 10 million units worldwide, and Super Smash Bros. Ultimate sold a massive 12.08 million copies in less than a month's time. That means nearly 40% of all Switch owners bought the new Super Smash Bros. game.
Switch Online also helped make consistent revenues during the period.
Nintendo confirmed the premium service now has over 8 million paid subscribers, meaning 25% of total Switch owners bought into the online plan. Nintendo pledges to expand Switch Online with new features and content over time, including new NES games, and it's likely that SNES games are coming to its classic vault as well.
Armed with a fusillade of new third-party and first-party games (a new Animal Crossing and mainline Pokemon RPG will come next year), the console is set to continue stellar performance in 2019.
We may even see Nintendo roll out a handheld-only variant of the Switch to replace the 3DS handheld, which we believe will be retired soon.