Google's console-killer Stadia wages war on the industry
Google's new Stadia service could kill mainstream consoles...if it can deliver.
Published
5 minute read time
Rather than take on Sony, Microsoft, and Nintendo with its own dedicated video games hardware, Google is trying to upend the market with a potent service.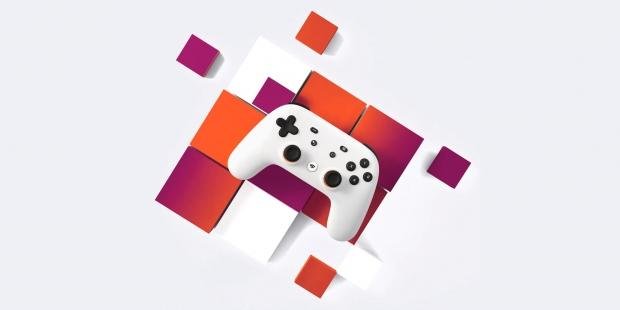 If it can deliver on its promises, Google's new Stadia game streaming service is a dangerous threat to console gaming. The ambitious platform has the potential to put the current console gaming landscape through some tremendous growing pains, and force its competitors to adapt or die (luckily Microsoft has planned for this scenario, but Sony and Nintendo haven't). With the convenience of high-def AAA gaming on any device and an open cross-platform community ecosystem, Stadia will break down the walled garden approach that consoles typically thrive off of.
With Stadia, Google aims to bring a new era of accessibility to gaming. Subscribers won't have to buy extra hardware or download anything to play games at up to 4K 60FPS (but a high-end internet connection is required). Ultra-powerful server networks wirelessly beam games from the cloud to devices. One example sees users simply turning on their TV, clicking on a YouTube link, and jumping right into a game. Start game on your desktop and want to continue on the go? Easy. Stadia brings all your saves, progress, and content to any device so you can pick right back up where you left off.
Games-makers like Sony, Microsoft and Nintendo typically thrive from fragmentation--fragmenting by locking exclusives behind hardware, fragmenting via layered services like Game Pass, Xbox LIVE, PS Now, PlayStation Plus and Nintendo Switch Online, and most of all, segregating players to a platform-based online friends list framework.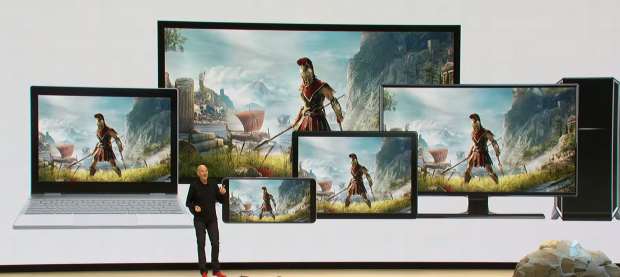 This new service essentially breaks down many of these barriers and could potentially dissuade consumers from buying consoles altogether. The main reasons to buy a console are lower cost, game selection, and friends and features. Consumers typically buy a console over a PC because it's cheaper in the short-term. But consoles are monetized strongly in the long-term with lots of subscriptions, and games are typically more expensive.
With Stadia, consumers don't have to buy a console. They don't have to buy games outright. Users can simply fire up their laptop, load up Chrome, and jump right into a AAA game.
The only thing you'll need with Stadia is a persistent strong internet connection and an active subscription (prices haven't been announced yet). Stadia will beam games to devices consumers already own and allow them to share videos and even their saves with friends across a platform they're already on. If everything goes smoothly, Stadia could very well kill the console industry and see it reborn through streaming.
Google's Stadia will be its own separate platform ecosystem, of course, but it'll be more open because it uses existing platforms that pretty much everyone is already on like YouTube, Gmail, and even Google Play to buffer it. Developers will be able to reach more consumers directly via these paths.
Like any long-term service, Stadia should be monetized with extra hooks outside of its monthly or yearly subscription. I fully expect to see multiple subscription tiers for the touted 4K 60FPS streaming, and like Netflix does with multiple screens, Stadia could charge you extra for playing on multiple devices at the same time.
Google says Stadia is built for three audiences: gamers, developers, and YouTubers. The latter should mean strong monetization via an interactive tipping/payment system that's directly integrated into Stadia. The way it could work is you pay maybe $10 or $15 a month to get access to a particularly YouTuber's game saves, allowing you to play directly alongside your favorite influencers.
"The vision for Stadia is simple: one place for all the games we play. It's focused on gamers, inspired by developers, and amplified by YouTube creators," Google said.
Stadia is also built with online gaming in mind. Live-based service games, such as battle royale sensations, will arrive in droves alongside MMOs and mobile-style experiences. This should bring strong microtransaction revenues into the service alongside recurring subscriptions. Google is enticing developers with Stadia's promised long reach and flexibility--the service will support multiple engines like Unity, Unreal, and toolsets like Havok--and interactivity to bring a new dimension to their projects.
The service uses Stadia Connect to enable online multiplayer across all devices. Users can jump in and play with friends, share gameplay footage and screenshots, and even share their saved games and loadouts. Every game is cross-platform and cross-save, too.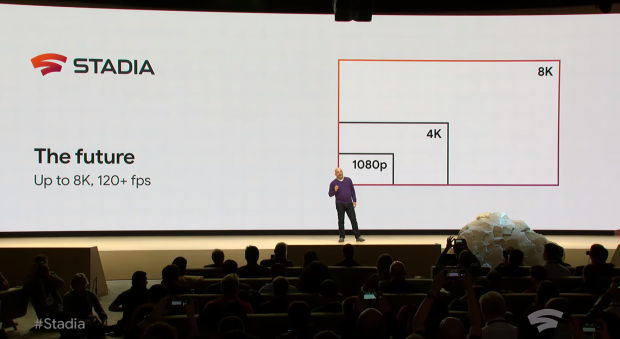 id Software jumped on board, and its big new Doom Eternal game will run on Stadia at 4K 60FPS with HDR enabled. Ubisoft is on board and should bring all of its biggest games to the platform, and we should see other games-makers jump in. Stadia not only offers a new platform for massive widespread reach, but gives publishers and developers a way to make money from their games without actually having to sell them. This is extremely powerful.
Despite all of these benefits, Stadia comes at a very real cost that some may not be willing to gamble on. Google's streaming service requires persistent high-quality internet connections to deliver the promises 1080p 60FPS (or the blistering 4K 60FPS that some games offer), and latency could be a big, big roadblock.
Until the internet infrastructures of the world become totally standardized and high-end, consoles will continue to have a place in the market. Stadia obviously can't be played offline, as opposed to a console that has the games downloaded right into it. Console gaming has its perks and will still have them even when Stadia is out--if anything the service could be additive to the console ecosystem for a subset of gamers--however mainstream adoption could strongly move towards game streaming over time.
As more and more games go the way of online services and live experiences, internet connections are become increasingly requisite anyway, which pushes consumers to seek more powerful internet subscriptions.
Luckily Microsoft has long been planning for streaming to overtake traditional hardware. The company is making its own Project xCloud service that will stream Xbox games to phones, desktops, laptops and Xbox One consoles. Microsoft has transformed Xbox from a console into a huge service-based ecosystem that spans consoles and Windows 10 PCs, and soon will spread to mobiles.
But Sony is still playing the traditional game-and-console-sales strategy despite having tried services like PS Now and multimedia subscriptions on the PS4. Nintendo is only starting into the service realm with its Switch Online infrastructure, but that's not a game streaming platform (the Switch is uniquely set up to leverage game streaming, however).
Right now Stadia seems to be more attractive to consumers than it is for developers. For it to take off and become the future of gaming, Google needs to pull lots and lots of creators into the fold, and it needs more than just promises. It needs content.
If Google can pull it off it'll lead the charge in the most dramatic transformation gaming has known...but history tells us game streaming is very, very messy and the project could ultimately flounder for a while before it excels.
Google's Stadia service will launch sometime in 2019 across the United States, Canda, UK, and most of Europe.
More info can be found below:
Game where you want, when you want.

Play across multiple devices, including laptops, desktops, and select phones and tablets.

High speed internet connection required

New ways to play through YouTube and beyond.

Go from watching a video to playing a game in seconds, with even more innovative experiences to come for select games.

Up to 4K HDR at 60 FPS.

Enjoy gaming the way you love, with beautiful HDR graphics and smooth frame rates.

4K HDR at 60 FPS are dependent on your bandwidth. Gameplay experience may vary based on quality of internet connection

Play instantly.

No updates, no downloads. Jump right into the game.

Always getting better.

Stadia's cloud based infrastructure evolves to meet the demands of players, developers, and YouTube creators.
Related Tags