Leaked Call of Duty: Modern Warfare 4 art is fake
Modern Warfare 4's promo art wasn't leaked after all.

Published Sat, Mar 16 2019 8:51 PM CDT
|
Updated Tue, Nov 3 2020 11:49 AM CST
That recently "leaked" Modern Warfare 4 promo art wasn't authentic, but Infinity Ward could still be working on a sequel.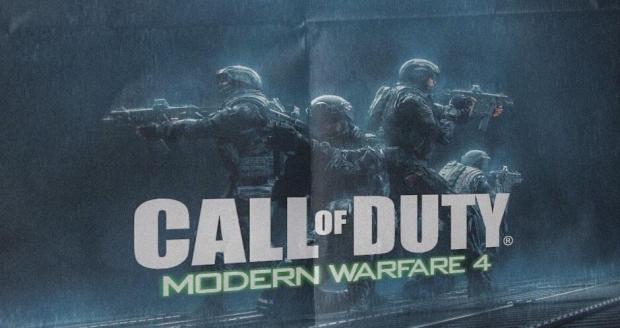 The Call of Duty community saw a big stir when some Modern Warfare 4 flyer art circulated the web, but alas it turned out to be a hoax. The supposed leak was debunked by eagle-eyed gamers who traced it back to artist Rene Aigner, and the "quick sketch" was based on meshes from someone else.
The art, which was dubious from the start, shows four identical-looking soldiers all holding the same gun. A random person just slapped a stylized Modern Warfare 4 over the image and called it a leak.
The fake "leaked" image (left) compared to Rene Aigner's art (right).
But that isn't to say these types of leaks are always erroneous. Retail employees at stores like Gamestop often leak art snippets, banners, and promo items for upcoming games (it happened with Destiny 2 and even Assassin's Creed: Odyssey). Sometimes even storefronts will inadvertently spoil the surprise.
Activision has confirmed some details on the next game including that Infinity Ward is making this year's Call of Duty.
Both co-op and singleplayer have been confirmed, and Activision expects big things from the game. Speculation has intensified of a Modern Warfare 4 release, but despite its hype-fueled rhetoric, Activision expects Call of Duty 2019 to sell less copies of Black Ops 4.
Here's what the publisher had to say about Infinity Ward's upcoming Call of Duty game:
"This Fall's launch is going to resonate very powerfully with our community. It is an amazing game, it'll feature an entirely new campaign, a huge and expansive multiplayer world, and fun co-op gameplay," Activision COO Coddy Johnson said in a recent Activision-Blizzard earnings call. "But from day one we've been really excited. Every time we've shown this title internally it's just created a ton of buzz."
"In Q4 2019, we'll have another major launch for the franchise that will appeal broadly to both existing and new fans with what I can only describe right now as a great step forward in the franchise that is also rooted in Call of Duty's history. We have high expectations for the game," said Activision CFO Dennis Durkin.
As always we should take any sort of info and art with a grain of salt. Before the devs and the publishers announce the games, or until they come from more reputable sources, we can't be sure--and we can't always be sure when it's the latter.
Related Tags