Anthem is more fun to talk about than to play
Anthem has become a spectacle for all the wrong reasons.

Published Wed, Mar 13 2019 6:47 PM CDT
|
Updated Tue, Nov 3 2020 11:49 AM CST
Anthem has gone from a Destiny-killer to a kind of freakshow spectacle that's more fun to talk about and gawk at than it is to actually interact with.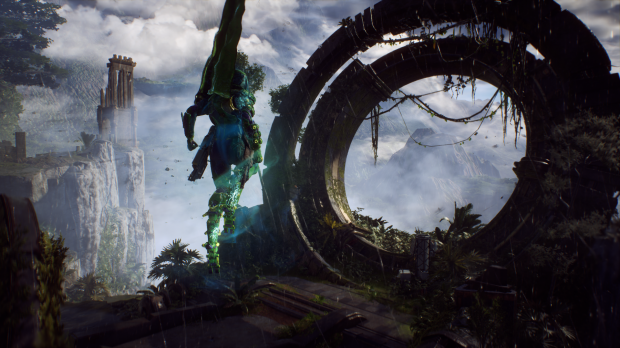 BioWare's big new service game Anthem is in a rough, rough place right now. The game has potential--the combat is great, the world is mystical and enchanting, and the lore is rich--but mechanically it's just a broken, tedious mess. It's so bad that the community now comes together not to share stories of triumph and excitement, but to point and laugh at glitches, bugs, and obvious live service design failures.
Right now Anthem's subreddit is filled with threads about the game's boring grind, lack of PVE content, weird placeholders, erratic bugs and mission designs, and terrible loot drops (which caused a big boycott that could hurt EA pretty bad). This kind of thing is a common occurrence, though. When games fail the community tries to hold developers accountable by laying on the pressure (as it should) and offering tons of feedback and fix ideas (as it also should). We've seen it with Destiny 2, No Man's Sky, For Honor, and even The Division...but it never gets any easier, and gamers aren't happy about being glorified beta testers.
I myself tried to play Anthem for an hour last night and it just felt so unrewarding. I felt like I wasted my time. I didn't find anything good, and I didn't really do very much outside of killing enemies in a very graphically-impressive environment. There's no stimulus there, and BioWare and EA clearly put the cart before the horse with Anthem--they forgot to make the game fun before monetizing it and infusing it with insanely mediocre and tedious live service hooks.
But this isn't surprising. Anthem was clearly created to make money first and be fun second, which is alarming given EA's strong understanding of live games.
As one Redditor aptly said about Anthem: "The loot currently wouldn't be a problem if the game wasn't so repetitive. The repetitive gameplay wouldn't be a problem if the loot wasn't so bad."
As it stands, Anthem's subreddit is a lot like Destiny 2's during the worst times and players could start dropping out en masse now that The Division 2 is out. Those that still stick around will be the core loyal fans who want to see the game get better, or those who actually have more fun at engaging with a like-minded community and poking fun at the game. Or both.
Anthem should've clearly been delayed and I hope that BioWare can salvage something from its wreckage. There's clearly a good game in there somewhere, but it's going to take a long while before Anthem is where it should be.
Related Tags