Anthem's epic skins cost $8.50 a piece
Anthem will be monetized at launch, and early access builds show pricing schemes.

Published Fri, Feb 15 2019 4:36 PM CST
|
Updated Tue, Nov 3 2020 11:49 AM CST
Anthem will launch with microtransactions later this week, and now we have an idea of how much its optional cosmetics will cost.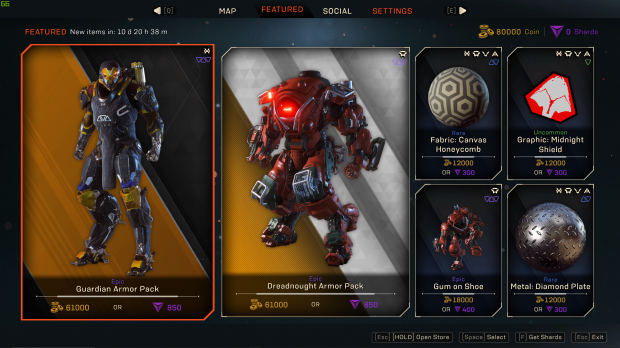 BioWare's big new IP Anthem is an online-only live service game that's monetized with cosmetic-only microtransactions. These purchases will help fund an entirely free roadmap of post-release content, which includes new beefy expansion-quality story modes, guilds, and Elder Content like strongholds and world-breaking cataclysmic storms.
Now that the game is now live for EA Access and Origin Access Premiere subscribers, we're seeing info come in on Anthem's cosmetic pricing. Shards, the game's premium currency, come in an exchange rate of about 105 Shards per $1 (Origin/EA Access subscribers get a discount), but if you buy larger packs you'll get bonus currency. Epic-grade cosmetic Javelin skins cost 850 Shards, or about $8. Higher-grade skins could cost more, though, and the rarity scheme goes like this: Common->Uncommon->Rare->Epic->Masterwork->Legendary. Everything bought with Shards can also be bought with Anthem's in-game Coin sweat currency.
Shard pricing is as follows:
500 Shards - $4.99

1050 Shards - $9.99

2200 Shards - $19.99

4600 Shards - $39.99
The price of each cosmetic may depend on the grade. For example, Epic gear may cost more than Rare or Uncommon. Textures are also sold for about $3, and emotes can be up to $4. These prices may change over time but I'm betting they'll be the same at launch.
Anthem comes out on February 22, 2019 on PS4, Xbox One and PC.
Related Tags