Rather than sell consoles or full games, first-party games like Crackdown 3 are geared towards adding value to Game Pass.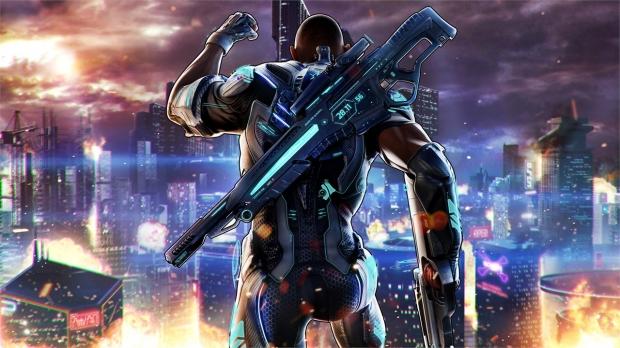 Microsoft's Game Pass subscription has literally changed the game for Xbox. The all-you-can-download subscription comes at a time when Microsoft is focusing on services first and its own games second, and shows how the company has a morphing strategy when it comes to its own titles. Rather than follow the more traditional route of using high-quality first-party AAA games to sell consoles and the games themselves, like Sony is doing with God of War and Spider-Man, Microsoft's new titles are released on Game Pass for no extra charge. That means its own games are now additive to its services the same way the very services are additive to its whole-package ecosystem.
Crackdown 3 is a prime example of this forked business model. The game is described by and large as a mediocre game, and Polygon's Chris Plante said something quite interesting about it: the game seemingly only exists to buffer Game Pass. I think he's right on the money here, and it sets an interesting precedent for future games. Instead of releasing big marquee blockbusters, Microsoft can now get away with making the games good and entertaining enough to spark interest in Game Pass. Once people buy into the service they'll be taken on the ride of engagement and monetization that churns Microsoft's billion-dollar strategy.
So we're seeing Microsoft's services affect its own games, the same way its games affect services. This kind of yin and yang structure folds into its cross-platform ecosystem of microtransactions, ad revenue, streaming, and game sales.
This isn't to say that all Microsoft's first-party Xbox games will be mediocre arcade-style games, however.
Crackdown 3 by its very nature is geared towards the service because it keeps everyone playing a kind of addictive and mindless experience. This is exactly the kind of games Microsoft wants on the service. It's a colorful yet dimensionless game without a lot of depth, and gamers are more likely to try other titles on Game Pass for richer experiences.
As it stands right now, Crackdown 3 is kind of a gateway into Game Pass despite all of its promises of dynamic destruction and mayhem. And really Microsoft is okay with this. It can now skate by with lackluster AAA games because its services not only pick up the revenue slack, but offer a new low-cost way to actually access the content.
Xbox Game Pass is a huge success and feeds directly into Microsoft's money-making cycle by sparking full game sales, boosting game playtime and monetization, and keeping users "sticky" in the Xbox service framework.
Read more: Xbox gaming earns $4.32 billion over holidays
I have no doubt that Microsoft is making big blockbusters and Crackdown 3 won't set the bar of expectations for all future games.
Halo 6 is in development for both Xbox One and PC, and the company just acquired some huge studios like Obsidian and Ninja Theory. So yes, there will be big games that sell Xbox consoles on the horizon, but they too will be involved in the Game Pass structure. But some games like Crackdown 3 will basically be made to sell Game Pass subscriptions.
Thanks to Game Pass, Microsoft doesn't have to rely on full game sales any more to make money from its games. This gives it more freedom to spread resources around to a bunch of projects instead of spending big of 3-4 huge exclusives. The company has learned how to be flexible over the years and is now one-step closer to leveraging its cross-platform might thanks to its rich service bedrock.
Don't expect this fluctuation of big and small AAA games to diminish over time. Even with the Xbox Scarlett family of consoles on the horizon, we should still see major games being geared strongly towards services like Xbox LIVE and Xbox Game Pass...but this too is only part of the plan and not the whole picture.