10 new minutes of Anthem gameplay: boss fight, story & more
IGN has revealed 10 more minutes of Anthem gameplay showcasing combat, boss fights, story and more.

Published Thu, Jan 17 2019 5:00 AM CST
|
Updated Tue, Nov 3 2020 11:49 AM CST
IGN has released yet another gameplay video of BioWare's upcoming online multiplayer action role-playing game Anthem. This time we get a touch of story, some awesome combat, puzzles and even a boss fight.
At the start of the video we gather that we will be going on a side quest, throughout the side quest viewers will be able to experience a small amount of narrative driven story while also seeing some combat of the Colossus and Interceptor Javelin. The side quest takes us on a retrieval mission for a manuscript, we see the characters pass through enemies and also be required to work out some mildly difficult puzzles.
It should also be mentioned that throughout this side quest we get a great change of landscape and a beautiful showcase of cave flora and fauna within the world of Anthem. Eventually arriving at the destination, we get a great display of combat with all of the javelins working in unison to defeat a Titan. The battle rages for quite some time and all of the players were brought down to very low health, its always good to see some high difficulty boss fights in an MMO. Anthem will be coming to the Xbox One, PS4 and PC on February 22nd.
In other news about Anthem, BioWare has said that Anthem will feature a social hub and a demo, find out more about both of those here.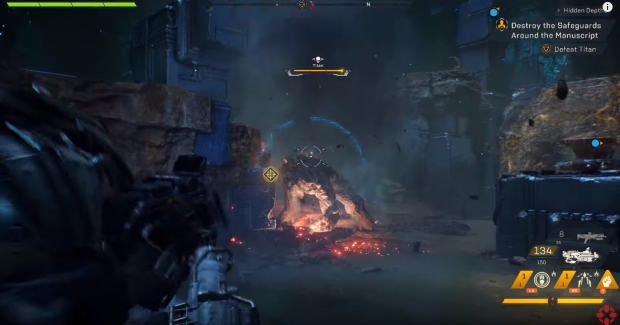 Related Tags