Overwatch's 'Soldier 76' loved a man before he loved his gun
Soldier 76 once loved a man before he loved putting his life on the line for his duty.

Published Tue, Jan 8 2019 3:00 AM CST
|
Updated Tue, Nov 3 2020 11:49 AM CST
Blizzard Entertainment are no strangers to providing in-depth lore towards each of their games, Overwatch falls under that umbrella and in a new short story we learn Soldier 76's sexual orientation.
Blizzard released a trailer about the recently released short story onto the their Twitter account, the post features a link to the short story which can be located here. The short story details a conversation between Soldier 76 (Jack) and Ana, throughout the conversation Ana asks Soldier 76 about the person he has his arm around in a picture. "Vincent... I haven't thought about him in years," Ana said. "Still keeping a candle lit for him?"
Soldier 76 glared towards Ana and then laughed "He got married. They're very happy. I'm happy for him." Ana being unconvinced of Soldier 76's authenticity remembered that Soldier 76 used to speak about Vincent often, "floating a dream that the war would end quickly, and maybe he'd have a chance to return to a normal life." Soldier 76 finalized his reasoning through a sigh, saying "Vincent deserved a happier life than the one I could give him. We both knew that I could never put anything above my duty. Everything I fought for was to protect people like him... That's the sacrifice I made."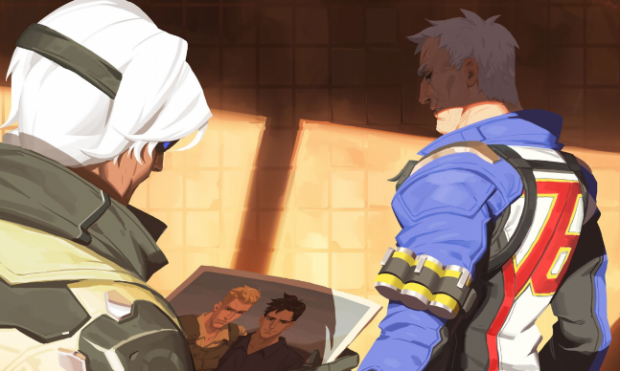 This isn't the first time an Overwatch characters sexual orientation has been revealed, it was already knowledge that Tracer is in a relationship with another female character named Emily. As the Overwatch story continues we will no doubt hear more about the interests of each of the characters whether it be sexual orientation or personality traits.
Related Tags