Witcher 3's Geralt comes to Monster Hunter: World
The White Wolf will soon be playable in Monster Hunter: World in a new ambitious crossover.

Published Mon, Dec 10 2018 2:59 PM CST
|
Updated Tue, Nov 3 2020 11:50 AM CST
In a surprise announcement, CD Projekt RED will infuse its RPG storytelling prowess into Capcom's monumentally successful Monster Hunter: World online game.
Geralt of Rivia is coming to Monster Hunter: World as part of an ambitious crossover event, Capcom today announced. The Butcher of Blaviken isn't the only thing coming to the Monster Hunter universe: he'll bring CDPR's memorable quests to the fold as well, alongside a horde of beasties like leshens, nightwraiths, and more.
Geralt will bring his sword-and-sorcery blademaster skills to the primal Monster Hunter series, and Doug Cockle is back to voice the gruff mercenary. This apparently isn't a cheap crossover event, but instead something both Capcom and CDPR took quite seriously.
"A lot of love from both Capcom and CD PROJEKT RED was poured into taking the best elements from Monster Hunter: World and The Witcher 3: Wild Hunt and crafting a unique RPG gameplay experience for fans of both game series," reads Capcom's announcement.
"The collaboration sees Monster Hunter: World players take on the mantle of Geralt of Rivia - a professional monster slayer equipped with superhuman strength and reflexes - and has them take on a series of Witcher-inspired quests. These offer a unique gameplay experience blending RPG mechanics of The Witcher 3: Wild Hunt with Monster Hunter: World's game systems," reads an official press release from Evolve PR.
If this does well, I'm really curious if CD Projekt RED will make an online Witcher game at some point...
The event will go live in early 2019 on PS4 and Xbox One, but PC players will have to wait a bit later.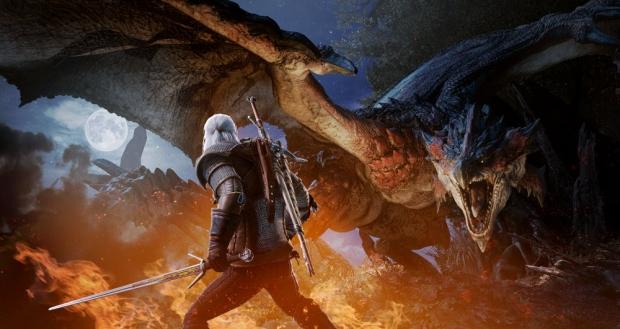 Related Tags