Far Cry: New Dawn leaked, likely a spin-off with online coop
Art for Ubisoft's new post-nuclear Far Cry game has leaked and gives us a few clues.

Published Thu, Dec 6 2018 6:13 PM CST
|
Updated Tue, Nov 3 2020 11:50 AM CST
Ubisoft's new Far Cry game is called Far Cry: New Dawn, newly leaked art reveals.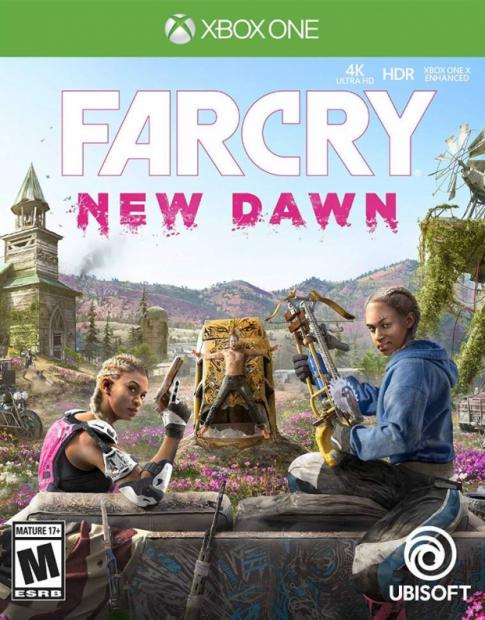 The next Far Cry game has been leaked ahead of its scheduled The Game Awards 2018 announcement, giving us clues on what to expect. Since it's way too soon for another big-budget sequel, I predicted the post-apocalyptic Far Cry: New Dawn would be a spin-off of sorts not unlike Blood Dragon. Ubisoft's teaser clearly showed the Montana countryside that served as the backdrop of Far Cry 5's chaos and we should see assets, textures, physics systems, and other content from the previous game carry over to New Dawn.
While Ubisoft has not announced any specifics, the cover really emphasizes my original thoughts of online play. I predict that New Dawn will be like Wolfenstein's new Youngblood game and feature online co-op across a spin-off style story arc. The cover hints the femme fatale duo are sisters, and we could play as either one in the game similar to Youngblood...or perhaps we're playing as a cultist trying to survive in a ruthless world overrun by killer women with buzz saw rifles.
Whatever the case may be, I'm pretty sure it won't be a mainline sequel. Ubisoft needs more time to make Far Cry 6 (remember Far Cry 5 just came out this year) and a new spin-off could organically engage audiences who already own FC5 as well as push newcomers to buy into the shooter.
Ubisoft will formally announce the game at The Game Awards 2018 tonight at 9PM EST.
Related Tags