AMD has a massive year ahead of them in 2019 already with the announcements of the world's first 7nm GPU and world's first 7nm CPU, but then there's EPYC 'Rome' and its insane 64C/128T of power that will be unleashing in 2019 as well as the new Zen 2 CPU architecture and Ryzen 3000 seires processors and Ryzen Threadripper 3000 series chips. Phew. That's a lot... except, AMD isn't finished yet.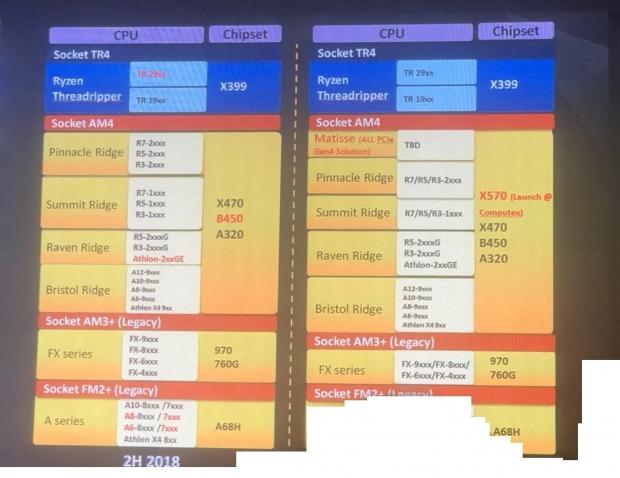 It's no surprise that PCIe 4.0 technology is right around the corner, but a new rumor is that AMD will be unleashing it on a new X570 chipset that will reportedly be launching during Computex 2019. The new info is courtesy of some leaked slides of a purported internal GIGABYTE presentation.
The new X570 chipset will reportedly be backwards compatible with all previous-gen Ryzen CPUs, while PCIe 4.0 technology doubles the bandwidth from PCIe 3.0 from 8 GT/s to 16 GT/s. This won't mean much to most people, as everyone will think 'ZOMG it'll make graphics cards twice as fast' but what it will allow is many more devices running over PCIe lanes.
Think M.2 SSDs, 10GbE, multiple graphics cards at x16, and more. This means we should see Ryzen-powered rigs in 2019 that will be rock multiple high-end graphics cards (like GeForce RTX 2080 Ti cards in SLI or new Radeon Navi cards in CrossFire) while throwing in a bunch of M.2 SSDs and running 10GbE all without a hiccup.
The launch timing makes great sense, as AMD has celebrated previous Computex trade shows with big launches so the new Ryzen CPUs and X570 chipset launching at the same time makes perfect sense.
AMD is expected to announce its next-gen Zen 2 architecture in January (CES 2019 makes sense) so we should see Zen 2-powered motherboards with PCIe 4.0 technology being teased in the months after, leading right into Computex 2019.