PlayStation Classic has lots of PAL games
Sony's $100 nostalgia console won't have a full NTSC library.
Published
3 minutes & 18 seconds read time
Sony's new PlayStation Classic mini-console will come pre-loaded with a lot of PAL format games, the company confirms.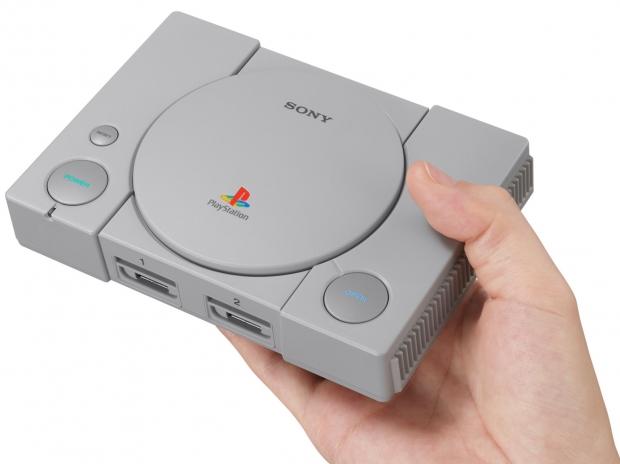 Out of the 20 classic PlayStation games pre-loaded on the PS Classic, almost half of them are PAL versions (there's 11 NTSC games and 9 are PAL). In a recent post on the PlayStation Blog, Sony revealed which games follow which format, and some of them could frustrate gamers: Tekken 3, for example, is PAL and ditto with the Resident Evil: Director's Cut.
PlayStation Classic game list, by region:
Battle Arena Toshinden (PAL)

Cool Boarders 2 (PAL)

Destruction Derby (PAL)

Final Fantasy VII (NTSC)

Grand Theft Auto (PAL)

Intelligent Qube (NTSC)

Jumping Flash! (PAL)

Metal Gear Solid (NTSC)

Mr. Driller (NTSC)

Oddworld: Abe's Oddysee (PAL)

Rayman (NTSC)

Resident Evil Director's Cut (PAL)

Revelations: Persona (NTSC)

R4 Ridge Racer Type 4 (NTSC)

Super Puzzle Fighter II Turbo (NTSC)

Syphon Filter (NTSC)

Tekken 3 (PAL)

Tom Clancy's Rainbow Six (PAL)

Twisted Metal (NTSC)

Wild Arms​ (NTSC)
But why is this a big deal? Consoles used to be region-based and games were specifically designed for each territory. PAL versions of games sometimes run at a slower 50hz frame rate and have strange music and sound issues. Since the PlayStation Classic runs on an open-source emulator, its library of games are likely just ROMs pulled directly from the discs themselves, issues and all.
This news has caused many gamers to turn their back on the retro machine, especially anyone who's familiar with playing old-school titles on PAL devices (and the issues that can arise from doing so).
The PlayStation Classic should be quite easy to hack, however, so pirates could expand the system's library with a bit of fiddling.
Sony's PS Classic will release on December 3, 2018 for $100. Check below for more info about the console:
Q: Will the PS Classic perform upscaling?

The PS Classic outputs video in 720p or 480p - your display device may also perform some upscaling depending on the model.

5. How long are the cables for the system and its controllers?

The included HDMI cable is 2.0m/78.7″; Both included controllers have cables measuring 1.5m/59.1″.

6. Which cables can I use to connect the console to my TV?

PlayStation Classic ships with an included HDMI cable, which you can use to connect the system to your television. It does not support any other video or audio output methods.

7. Can I use DualShock 4 with PlayStation Classic?

Only the included controllers are compatible with PlayStation Classic.

8. Are PS2 and PS1 controllers compatible with PS Classic?

The PS Classic is only compatible with official PS Classic controllers.

9. How do disc changes work?

In games that originally shipped on multiple discs, like Final Fantasy VII and Metal Gear Solid, when you reach the end of a "disc," press the "Open" button on the PlayStation Classic console to transition to the next virtual disc.

11. Can I use the System Link feature to link more than one PlayStation Classic together?

System Link functionality is not present in PlayStation Classic. You can, however, make use of split-screen multiplayer in supported games.

13. What kind of power source can you use with PlayStation Classic? Can I use my phone charger?

Use the included USB cable to connect PlayStation Classic to a USB power source that supports 5V, 1.0A (minimum) output, such as a USB AC adapter (not included).

14. Can I connect to PSN to download new games to PlayStation Classic?

PlayStation Classic is a plug and play offline experience, and as such cannot connect to the internet. There are no plans to bring new content or updates to PlayStation Classic post-launch.

15. Can I buy extra games for the PlayStation Classic?

The PS Classic is preloaded with 20 of the best games from the original PlayStation. It is not possible to purchase additional games for PlayStation Classic.

16. Can the PS Classic read discs from the old PS1?

The PS Classic is 45% smaller than the original PlayStation and does not have a disc drive. All 20 titles are contained in the PS Classic's internal storage.
Related Tags