EA's Q2'19 live services earnings double digital game sales
At EA, live services rule the digital kingdom and microtransactions reign supreme.
Published
|
Updated Tue, Nov 3 2020 11:50 AM CST
2 minutes & 39 seconds read time
EA should continue delving deeper into live services and bundling them into its slate of upcoming games.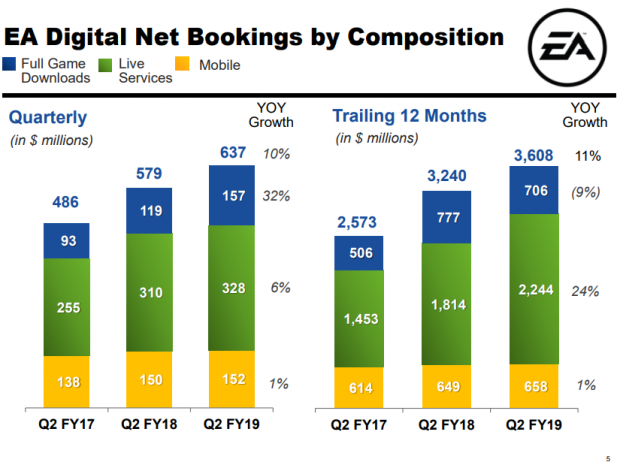 We've known for a while now that EA is all about live services, and the company's second quarter earnings highlight this trend even further. EA's recent Fiscal Year Q2'19 earnings show the company generated $328 million from live services (which includes microtransactions, subscriptions, DLC, add-ons, etc), or about 25% of total its total $1.268 billion net bookings for the quarter. Live services are up 6% year-over-year and represents the lion's share of 51% of total digital net bookings for the quarter, which means EA makes most of its digital revenues from online-based streams. It's worth noting mobile earnings are not included in this metric.
Digital full game sales are up a strong 37% year-over-year to $157 million, but are still eclipsed more than two-fold by live services. EA still makes most of its digital revenue from consoles--thanks to FIFA and wider hardware install bases--and $358 million was earned from the platform, up 27% year-over-year and representing a mighty 56% slice of the total digital earnings pie. The newly launched Origin Access Premiere subscription service boosted these numbers, but the primary driven is of course from microtransactions from Madden/FIFA Ultimate Team.
For its Fiscal Year 2019 guidance, Electronic Arts again expects to make most of its revenue from digital (which shouldn't be surprising).
It expects to pull in $3.805 billion from digital net bookings, or a whopping 74% of its total $5.150 billion projected earnings for the full fiscal year. Big live-service enabled marquee games like FIFA 19, Battlefield V, and BioWare's big new Anthem IP will be main drivers for these figures.
Here's what EA executives had to say about the Q2 earnings:
"Digital net bookings were $637 million, up 10% on the year-ago period and a new record for the second quarter. The main drivers of the increase were FIFA 19, FIFA and Madden Ultimate Teams. Digital net bookings now represent 69% of our business on a trailing 12-month basis compared to 63% in the prior year. This is a new record for the period," said EA Chief Financial Officer Blake Jorgensen.

"Looking at each of the components of this quarter's digital net bookings in turn. Live services net bookings were up 6% year-on-year to $328 million, a new Q2 record. The increase was driven by FIFA, Madden and Madden Ultimate Teams and The Sims 4, offset by the effects of the transition from FIFA Online 3 to FIFA Online 4 in Asia. The Sims 4 live services are in their fourth year, continue to perform very strongly and are on track to grow 20% over fiscal 2018.

"In addition, our subscription services continue to grow, and we expect the launch of Battlefield V to drive additional subscriptions to our Origin Access Premier service. As a reminder, over the course of the year, our live services business is about 50% Ultimate Team; 30% other live services, such as Sims 4 expansion packs and FIFA Online 4; and 20% subscriptions, advertising and other."
EA CEO Andrew Wilson affirms that live services are here to stay, and they will be ingrained into future EA-published games in some manner.
"Across consoles, mobile, PC, live services are increasingly the lifeblood of the experiences that players are engaging with today. This is where games continue to evolve for our player communities and where we can continue to deliver the choice, value and fun that keeps them together with their friends over weeks, months and years. In our Sims 4 live service, fans have downloaded nearly 30 million expansion packs life-to-date and with our monthly average players continue to grow year-over-year, we see a long future ahead for this game and its thriving community."
Related Tags