EA's new Origin Access Premiere subscription will give instant access to the publishers newest games, similar to Microsoft's popular Game Pass service.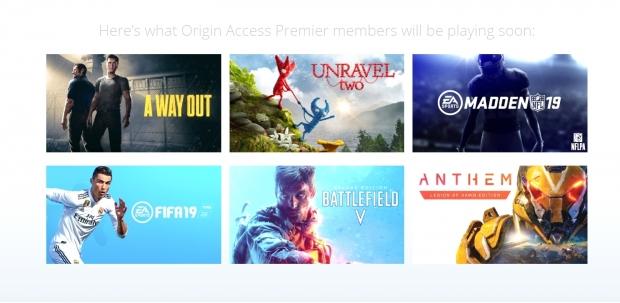 Origin Access Premiere costs $14.99 a month or $99.99 a year, and subscribers get full access to EA's new games like Anthem and Battlefield V as well as the original selection of vault titles. The service is currently exclusive to PC. Users also get unlimited trials of upcoming EA games, as well as five-day early access to all new titles.
"Origin Access Premiere will bring you all of our new PC games, starting with Madden NFL 19, back on the PC for the first time in over a decade, then FIFA 19, Battlefield V, and of course Anthem. And they'll be many more titles for the years to come," EA CEO Andrew Wilson said during the company's E3 press conference.
"Secondly you get access to the vault, our library of over 100 games from EA and other publishers. Lastly, it'll launch later this Summer."
Subscriptions are quite important to EA and have helped rake in billions in revenue as part of its Live Services segment. As an ever-watching publisher that asserts the future of gaming is cloud-based streaming, it appears EA has taken a liking to Microsoft's success with Xbox Game Pass, a $10 a month service that grants unlimited access to a pool of games including upcoming first-party exclusives.
While EA may not have the console platform, it certainly has the games, and this new initiative should help pull kick off the company's bigger focus on cloud-based streaming and more in-depth subscription services.
So, what's the difference between Basic and Premier?
Our Basic membership gets you:
the chance to try out our new games for up to ten hours, starting five days before release, with Play First Trials

access to The Vault, a library of games that just keeps growing all the time. Play any games that have already been added, as much as you want.

the 10% discount in the Origin Store on full games, pre-orders, expansions, FIFA points, and more
Premier will give you:
full, unlimited access to our games, starting five days before they release

That's right, no more limited-time trials. Play the full game starting five days before launch without purchasing it separately, until you cancel your Premier membership.

access to The Vault, a library of games that just keeps growing all the time.

the same 10% discount in the Origin Store on full games, pre-orders, expansions, FIFA points, and more