Intel is expected to unveil its new Core i9-9900K processor in less than two weeks time, with some "accidental" listed prices hitting Silicon Lottery. We're looking at a much more expensive 9th generation CPU series from Intel, but as usual the prices were removed - yet this is the internet, we all know whatever is posted is forever.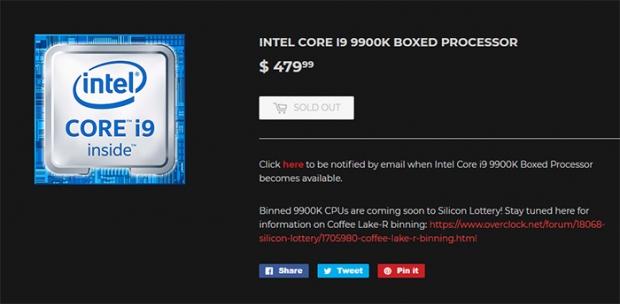 Well, it looks like we're looking at around $480 for the upcoming Core i9-9900K processor... a price hike of around $100 over the Core i7-8700K. Remember the new 9900K is an 8C/16T chip while the current-gen 8700K is a 6C/12T processor. The new 9th gen Core i7-9700K should debut at $370, which is the same price as the 8700K (but it is an 8C/8T chip with HyperThreading disabled). The upcoming Core i5-9600K is a 6C/6T chip (also with HT disabled) and should debut at around $250.
Intel's new Core i9-9900K will rock a base clock of 3.6GHz and boost clock of 5GHz (in single- and dual-core tasks). Intel should be listing the 4-core boost as 4.8GHz, while the higher-end 6- and 8-core boost is a huge 4.7GHz. This should really put the boot into AMD's neck... yet AMD's Ryzen sales are out of this world right now and Intel needs everything it can just to fight a battle that two years ago, it thought it didn't need to fight. 10nm is a mess, and now the Core i9-9900K has to take things to the next level for Intel to take the spotlight away from AMD... temporarily.