A recent interview revealed in the Official Xbox Magazine (November 2018, issue 169), information regarding the brand new NPC interaction system found in Rockstar's Red Dead Redemption 2.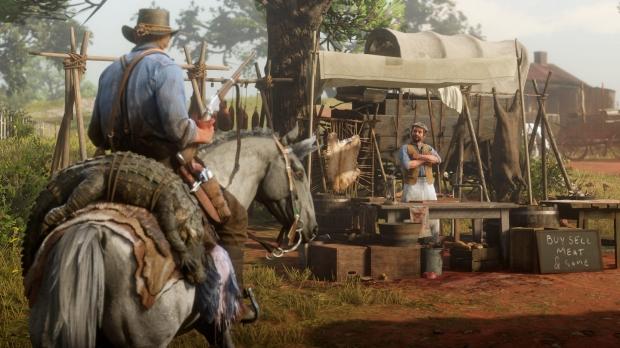 From the interview we learn that players' actions throughout the world will directly influence the mindsets and relationships of the gang members that will be with him when he returns to camp. Rockstars Imran Sarwar, Director of Design on Red Dead Redemption 2 said "We had to upgrade all of our gameplay and AI systems so that the gang members were smarter and equipped with better memories, so that they would respond naturally to Arthur and invite him into conversations."
Sarwar continued and said that the aspiration of wanting to implement the ideas of a memory system for NPC's "led to the creation of the interaction system that exists for the entire world." According to Sarwar, players will experience this brand new interaction system across all NPC's, this means whether it's a "shopkeeper, a lawman or a passing rider - you can interact with them in a variety of ways without ever drawing a gun, and those options will be contextual based on what kind of person they might be and the situation you're in." Sarwar finishes up by saying that this is a "huge leap forward and immerses you in the world in a way that we have never been able to do before RDR2." Red Dead Redemption 2 comes onto Xbox One and PS4 on October 26th.