Assassin's Creed: Odyssey has a very Morrowind-esque mode
Odyssey will let players quest without intrusive markers or icons, somewhat like Morrowind.

Published Wed, Sep 12 2018 5:28 PM CDT
|
Updated Tue, Nov 3 2020 11:50 AM CST
Assassin's Creed: Odyssey will let you freely explore the game without telling you what to do or exactly where to go, similar to one of my all-time favorite RPGs.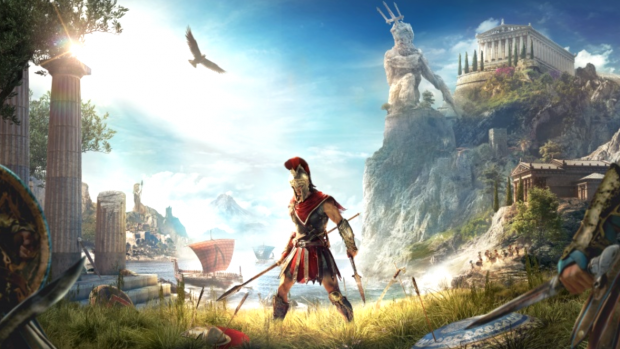 RPGs today aren't like they were. Even Bethesda's RPGs aren't like they used to be. Take Skyrim, for example: the game tells you where to go with convenience checkpoints and quest markers, making it more about time-sinking than having to think or really explore. But RPGs didn't used to be this...casualized. Morrowind, which stands as the best Elder Scrolls in existence, required gamers to actually pay attention and follow directions in a handy journal. You were given landmarks and told where to go and how to get there, but no on-screen indicators guided you. Your path was yours to make and you could take any shortcut you wanted. This kind of freedom will be somewhat channeled in Assassin's Creed: Odyssey.
Ubisoft has made a big to-do about Odyssey's freedom. The game sports a new dialog system that actually opens up questlines and affects NPC outlooks based on your answers, and the combat systems are more tailor-made. But Odyssey also sports a new Exploration Mode which essentially lets you fly blind into the wonders of 5th Century ancient Greece, removing quest indicators and other icons from your map (thank god because they're everywhere in Ubisoft games).
Here's how exploration mode is described in-game: "Exploration Mode - A newer approach to playstyle. The user must investigate the world to uncover targets and quest objectives. This is the way Assassin's Creed: Odyssey is meant to be experienced."
Now we won't be completely blind with Exploration Mode like we were in Morrowind. Players will still get little on-screen hints on generally where to go and will have to use Alexios'/Kassandra's feathered ally to pinpoint exact objectives.
But honestly I'm glad the mode has shown up in any capacity, especially since big open world games seem quite watered down when it comes to actual organic, freeform exploration. I myself will be taking full advantage of this mode when Odyssey drops next month.
Assassin's Creed: Odyssey will release on October 5, 2018 on PS4, Xbox One and PC.
Check below for more information about the game:
BECOME A LEGENDARY SPARTAN HERO

Embark on your journey from humble beginnings to living legend as Alexios or Kassandra. Customize your gear, upgrade your abilities, and personalize your ship on your path to becoming a Spartan hero.

ANCIENT GREECE AWAITS

From the heights of snowy mountain peaks to the depths of the Aegean Sea, explore an entire country full of untamed environments and cities at the peak of Greece's Golden Age. Unexpected encounters will breathe life into your story as you meet colorful characters, battle vicious mercenaries, and more.

CHOOSE YOUR OWN PATH

Your decisions shape the world around you with over 30 hours of choice dialogue and multiple game endings. Experience a living, dynamic world that constantly evolves and reacts to your every decision.

FIGHT EPIC BATTLES

Show off your extraordinary warrior abilities and shift the tides of battle during one of the deadliest conflicts of the time, the Peloponnesian War. Charge into epic clashes between Sparta and Athens in big battles pitting 150v150 soldiers against each other.

SAIL ACROSS THE AEGEAN SEA

Find uncharted locations, uncover hidden treasures, or fight your way through entire fleets in naval battles. Customize the look of your ship, upgrade weaponry to suit your strengths, and recruit crewmembers with unique perks, tailoring naval combat to your style.

A LAND OF MYTHS AND LEGENDS

Discover a world rich with myths and legends. From ancient rituals to famed statues, come face to face with Greece's legendary figures and discover the true nature of mythological beasts like Medusa and the Minotaur.
Related Tags