BioWare no longer using Andromeda's facial animation tech
Anthem won't have comical facial animations.

Published Wed, Sep 5 2018 7:17 PM CDT
|
Updated Tue, Nov 3 2020 11:50 AM CST
The tech behind Mass Effect: Andromeda's unfortunately hilarious facial expressions is now extinct, BioWare says.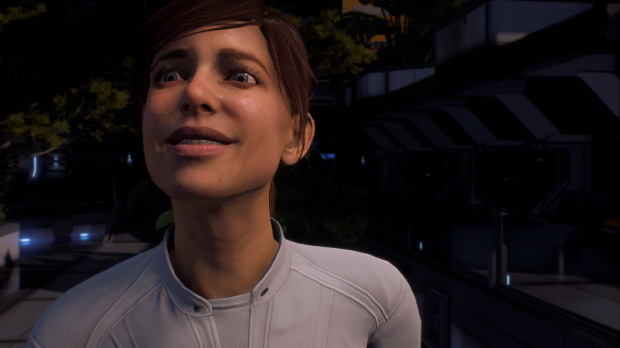 Embarrassingly wonky animations are the last thing you want a game that's been in development for years to be known for, but that's exactly what happened when Mass Effect: Andromeda showed up on EA's preview program. The duck-like lips, dead glassy eyes, and overall weird facial expressions were ridiculed en masse on the internet, and honestly broke the immersion in many instances. BioWare is careful to say this won't return in Anthem.
Agents, NPCs and Freelancers in Anthem won't be wooden human impostors simply because the Andromeda facial tech has been retired. "We had used a specific piece of technology up to and including Andromeda that we're not using anymore," Anthem executive producer Mark Darrah said in a recent Game Informer interview. "Part of it is just paying more attention to it and making sure it's tuned properly and giving it specific attention."
Anthem will have a lot fewer characters than Andromeda. This allows BioWare to specifically target each animation and hone them so expressions appear more real and natural.
"[Characters in Anthem] talk more but each character has a certain amount of effort required to set them up to talk, to move their face properly at all. So we have much fewer characters that on average talk a lot more, where in a Dragon Age or Mass Effect you have tons of characters that say one or two lines. There basically is nobody in Anthem that only says one or two lines," Darrah continued.
Everything we've seen so far strongly shows BioWare has learned a lot from Andromeda's faces. An ex-BioWare dev explains that the studio might've outsourced its facial animations, and the tech used was made for more streamlined experiences--not deep story-driven RPGs like Mass Effect.
(Continued below)
Read more:BioWare: Dragon Age 4 will be 'what a Dragon Age should be'
Even if the animations are off the studio can fix them more efficiently now.
As a live game, BioWare can swoop in and make key changes on-the-fly in Anthem versus having to carefully roll out steady patches for gamers to download like with Andromeda. This easy and efficient live approach could also revolutionize how gamers experience future Dragon Age and Mass Effect games.
BioWare is currently working on a new Dragon Age game alongside some "secret projects." It's possible a new Mass Effect is in early dev phases.
Anthem releases February 22, 2019 on PS4, Xbox One and PC, hopefully with more-than-adequate facial animations.
Related Tags