Mass Effect: Andromeda faces prove it needed more time
Ex Mass Effect animator explains what might've gone wrong with Mass Effect: Andromeda's wacky faces, and hints it needed more time.

Published Fri, Mar 24 2017 6:07 AM CDT
|
Updated Tue, Nov 3 2020 11:56 AM CST
Mass Effect: Andromeda has a real problem with its facial animations. Yes, you can still play the game and get somewhat used to it, but they absolutely break the immersion for people like me, leading to gamers pretty much not getting invested or caring about NPCs. And, of course, the faces have led the game to become a laughing stock on the internet. So what went wrong? An ex-Mass Effect animator might have some answers.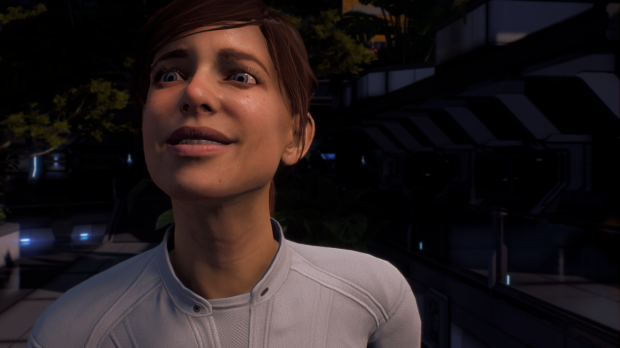 Before Jonathan Cooper signed up to work at Naughty Dog, he helped BioWare animate Mass Effect and Mass Effect 2. Cooper is also known for helping bring a number of triple-A games to life, including the impressive Uncharted 4: A Thief's End, so it's fair to say he knows exactly what he's talking about.
Cooper recently gave some key insight on what might've gone wrong with Mass Effect: Andromeda's bizarre faces, highlighting just how complicated it is to animated a RPG with extensive dialog sequences. In fact, it's a mammoth undertaking with a million moving parts (quite literally). Cooper guesses that Mass Effect: Andromeda essentially lowered its facial animation quality to meet the game's deadline, and hints it should've been delayed to extend the dev cycle.
"Andromeda seems to have lowered the quality of its base algorithm, resulting in the "my face is tired" meme featuring nothing but lip-sync. This, presumably, was because they planned to hit every line by hand. But a 5-year dev cycle shows they underestimated their task."
So essentially Mass Effect: Andromeda is unfinished, it should've been delayed, and needed more time. Instead, BioWare Montreal just shipped it in its current state, and right now it's become notorious in a sea of amazing games from 2017. On the backs of Horizon: Zero Dawn, which has incredible facial animations, Mass Effect: Andromeda falls flat on its face. But as Cooper notes, HZD has 15 hours of facial recordings.
Check below for a full catalog of Cooper's notes:
Read Also: Mass Effect: Andromeda first impressions
Animating an RPG is a really, really big undertaking - completely different from a game like Uncharted so comparisons are unfair.

Every encounter in Uncharted is unique & highly controlled because we create highly-authored 'wide' linear stories with bespoke animations.

Conversely, RPGs offer a magnitude more volume of content and importantly, player/story choice. It's simply a quantity vs quality tradeoff.

In Mass Effect 1 we had over 8 hrs of facial performance. In Horizon Zero Dawn they had around 15. Player expectations have only grown.

As such, designers (not animators) sequence pre-created animations together - like DJs with samples and tracks.

Here is the Frostbite cinematic conversation tool circa Dragon Age Inquisition. (Source: https://www.frostbite.com/2014/08/creating-biowares-first-rpg-on-the-frostbite-engine/ ...)

Here's the cinematic conversation tool for the Witcher 3. Both tools make it fast to assemble from a pool of anims.

Because time denotes not every scene is equally possible, dialogues are separated into tiered quality levels based on importance/likelihood.

The lowest quality scenes may not even be touched by hand. To cover this, an algorithm is used to generate a baseline quality sequence.

Mass Effect 1-3 populated default body 'talking' movement, lip-sync and head movement based on the dialogue text.

The Witcher 3 added to this with randomly selected body gestures that could be regenerated to get better results.

Andromeda seems to have lowered the quality of it's base algorithm, resulting in the 'My face is tired' meme featuring nothing but lip-sync.

This, presumably, was because they planned to hit every line by hand. But a 5-year dev cycle shows they underestimated this task.

(All this is exacerbated by us living in an era of share buttons and YouTube, getting the lowest quality out to the widest audience.)
Related Tags