We know so much about NVIDIA's about-to-be-announced GeForce RTX series graphics cards, but one of the largest pieces of the puzzle is missing: price. Well, it looks like we could be paying between $700-$1200 for the RTX 2080 and RTX 2080 Ti if the leaked pricing from VideoCardz is right.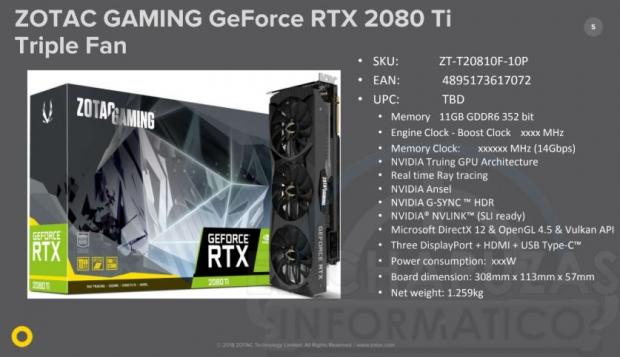 The site is reporting from information from ElChapuzasInformatico that the ZOTAC GeForce RTX 2080 Ti AMP! Edition will cost a rather large $1199, while the RTX 2080 AMP! will cost $839. This might sound insane, but it makes sense. NVIDIA has a lot of GeForce GTX 1080 Ti graphics cards left in the channel and will need to get rid of them.
Why price the new cards at $699 max (RTX 2080 Ti) if it truly is a huge leap in performance over the GTX 1080 Ti? What would the GTX 1080 Ti be priced at tomorrow? $299? The new pricing is big... but we will have confirmation in the coming hours hopefully.
I did write back in June that the new cards could be priced between $999-$1499 and it seems I'm right. I'm expecting $699-$799 for the RTX 2080 FE and $999-$1099 for the RTX 2080 Ti FE if this new pricing is correct. Obviously the custom AIB cards will be more expensive, but NVIDIA could have the Founders Edition cards priced cheaper.