Doom Eternal hearkens back to 2016's Doom with its slick and fluid FPS havoc--all thanks to id's latest game engine technology.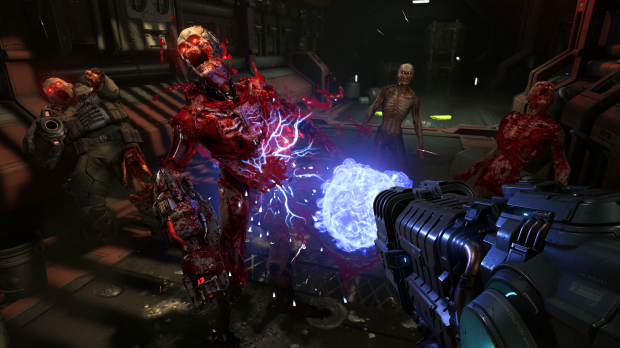 At QuakeCon 2018, id Software showcased some grisly, heart-pumping demon massacring action with a new Doom Eternal gameplay trailer. This buttery-smooth mayhem and impressive dynamic visuals and physics are all made possible by the id Tech 7 engine that powers the game--a next-gen toolset that pushes id Software's proprietary software to new heights.
"This id Tech 7 engine allows us to display 10 times the geometric detail and greater texture fidelity than we have ever put on screen," said game director Marty Stratton.
According to creative director Hugo Martin, Doom Eternal will run at 60FPS, but it's not clear on which platform. Given the PC can hit much higher frame rates we're betting the new Doom will hit 60FPS on PS4 and Xbox One, and maybe even the Switch (while docked).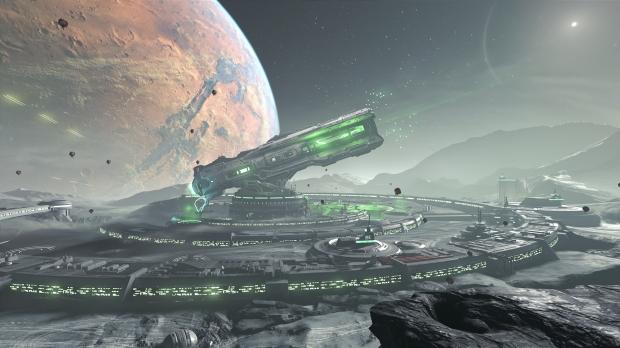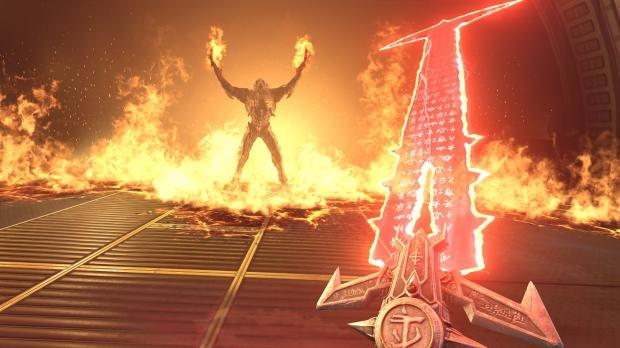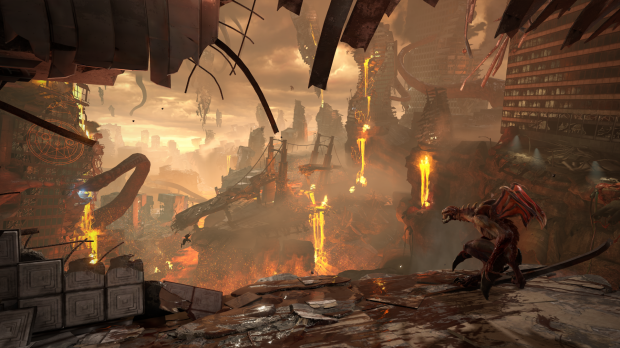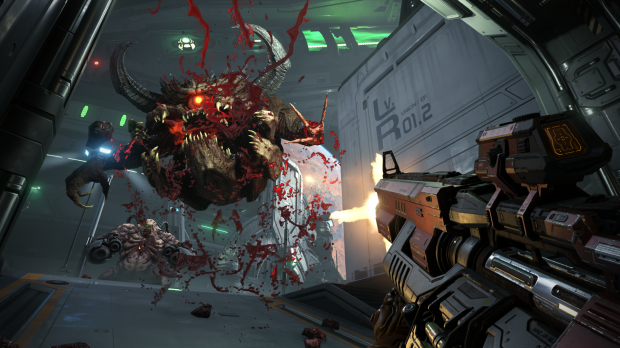 No new Doom game would be complete without fresh ways to utterly annihilate demon spawn. Fortunately Doom Eternal gives players a host of new abilities, weapons, and combos they can use to literally chain kills together.
Some of Doom Slayer's new tricks:
Dash ability (twice before it runs out)

Wall climbing

Clambering up pipes/other objects

1-Ups/extra lives

Two-handed wield-able hellblade (with runes!)

New weapon mods (grappling hook, scopes, etc)

Built-in blade melee attack

Shoulder-mounted flamethrower weapon
A new mode is in too. id is bringing a Dying Light-esque invasion mode to Doom Eternal that allows gamers to invade other players' campaign sessions as demons. You can invade random people's or your friends' games solo or with a buddy, and this mode kind of reminds me of the classic Doom artwork where Doom Slayer is being overrun by unholy abominations.
But what's next after Doom Eternal? id teases that Doom 2016 was just the beginning, and Eternal will be another stepping stone to a brand new Doom universe.
"We're not making a new Doom game any more. We're making a new Doom universe," Martin said.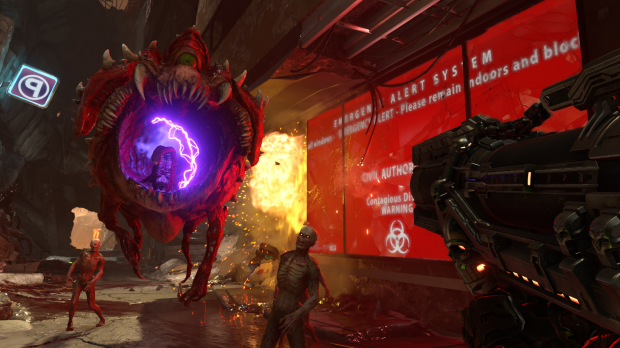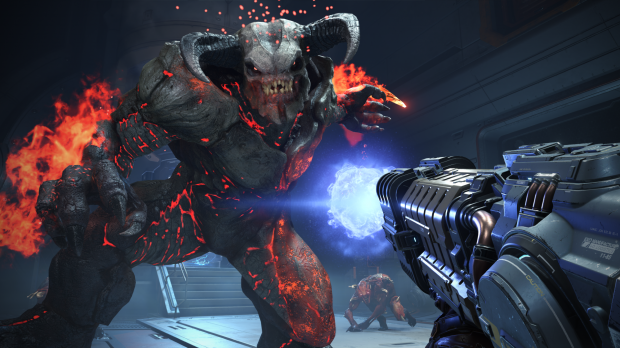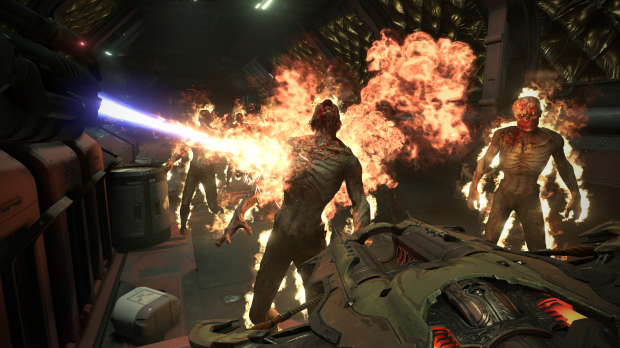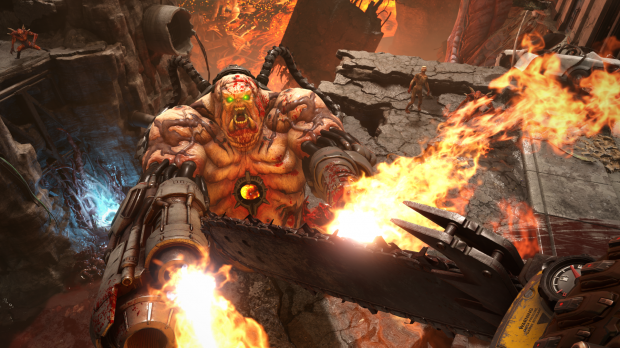 Doom Eternal doesn't have a release date just yet, but it'll launch on PS4, Xbox One, PC and Nintendo Switch. Check below for a bunch of new details about the game.
Developed by id Software, DOOM Eternal is the direct sequel to the award-winning and best-selling DOOM (2016). Experience the ultimate combination of speed and power as you rip-and-tear your way across dimensions with the next leap in push-forward, first-person combat.

Powered by idTech 7 and set to an all-new pulse-pounding soundtrack composed by Mick Gordon, DOOM Eternal puts you in control of the unstoppable DOOM Slayer as you blow apart new and classic demons with powerful weapons in unbelievable and never-before-seen worlds.

FEATURES:

Slayer 2.0

Unleash the overwhelming power of the DOOM Slayer. With updated armor and an arsenal of new and improved equipment, including a shoulder-mounted cannon with flamethrower, extendable blade, and a new dash ability, you're faster and deadlier than ever. Destroy every demon in your path with an upgraded array of guns and mods, including the Super Shotgun's new Meat Hook attachment to pull yourself point blank with the faces of hell.

Rip More, Tear More

Obliterate more demons than ever before, each with their own attacks and abilities. Fan-favorite classics such as the Pain Elemental, Archvile, and Arachnotron make their return, while a horde of totally-new demons join the roster including the DOOM Hunter and corrupted Marauders. DOOM Eternal's "destructible demons" system takes your power fantasy to new levels by ensuring that every trigger pull has never felt better.

All-new Invasion

As the Slayer, allow real players to invade your campaign as demons for a dramatic and unpredictable twist anytime you're playing the campaign. Or join the ranks of the damned yourself as you become a demon and invade a friend or other player's campaign. Invade others either by yourself or with another player, as part of a hunting party, to give the Slayer a true taste of Hell.

We're Not on Mars Anymore

Rip and tear across epic, never-before-seen worlds. Witness the tumbling skyscrapers of Hell on Earth; battle through an invasion of the mammoth BFG 10,000 on Phobos; and discover the ancient secrets of the DOOM universe. With idTech7, every environment is brought to life in unprecedented detail.