PlayStation sales break 500 million
Sony breaks 500 million PlayStation sales and celebrates with a new limited edition PS4 Pro.

Published Thu, Aug 9 2018 5:51 PM CDT
|
Updated Tue, Nov 3 2020 11:51 AM CST
The PlayStation line of consoles has crested 500 million sales worldwide, Sony today announced.
Since its original debut in 1994 Sony's PlayStation brand has changed console gaming forever. Generation after generation saw new innovations in both gaming hardware and video game experiences, redefining the industry every step of the way. Now nearly 24 years later the Japanese games-maker reveals its iconic console family has sold over 525.3 million units globally. To celebrate, Sony is releasing a special edition PS4 Pro.
"Today, I'm thrilled to reveal that Sony Interactive Entertainment has officially sold more than 525.3 Million PlayStation systems worldwide! With 500 Million PlayStation systems sold, that means countless adventures into the unknown, courageous stands against evil, and life-long memories of playing with family and friends. Thank you to all our fans for your passionate support over the past 24 years, which made all of this possible," said SIE exec Eric Lempel.
Honestly I'm a bit annoyed by this move. Special edition consoles are great and all, but Sony is basically thanking gamers for buying its hardware for over two decades by...releasing new hardware for gamers to buy.
No freebies for everyone to keep, no small digital tokens like themes or whatnot...just "here's a console you can't ever hope to buy because it'll be sold out in seconds, but good luck trying." I say that because the special PS4 Pro is limited to just 50,000 units globally.
The console is called the "500 Million Limited Edition PS4 Pro" and is your basic 4K-enabled beefier-PS4: other than the upgraded 2TB hard drive (which probably won't be used as collector's will snap it up) the console is fundamentally the same as every PS4 Pro at Gamestop. The real differentiation is the new system's weirdly transluscent paint job that allows you to see portions of its guts, and some accenting--both of which Sony has made a big to-do about on the PS Blog post.
The console will go on sale August 24, 2018 for $499.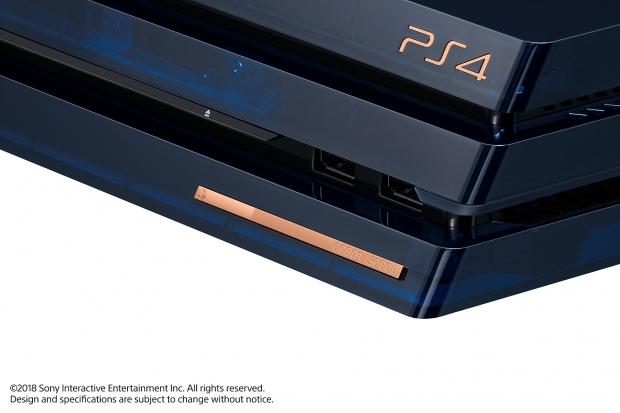 Related Tags