PS Plus subscribers down slightly in Q1
Sony kicks off a new fiscal year with a PS Plus subscriber dip.

Published Wed, Aug 1 2018 5:18 PM CDT
|
Updated Tue, Nov 3 2020 11:51 AM CST
Sony sheds 300,000 PS Plus subscribers in its first quarter, but network services are up.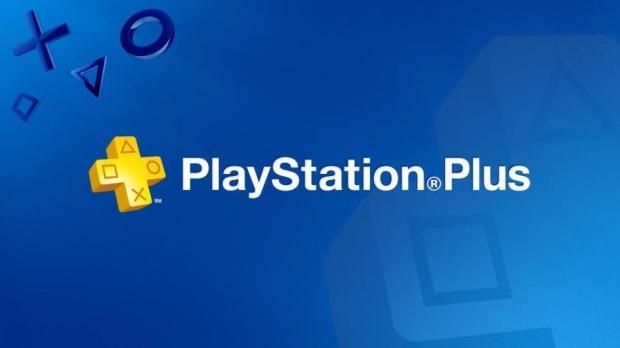 Sony just kicked off its Fiscal Year 2018 timeline with strong Q1 game segment earnings: its Games and Network Services branch raked in 472.1 billion yen, up about 36% from last year, and operating income was up a staggering 331% year-over-year to 65.7 billion yen. Game sales were up a mighty 70% YoY, pulling in 268 billion yen, and software made up 57% of the segment's total earnings. However, punctuating this good news is a slight dip in PS Plus subscribers.
PlayStation Plus is a big part of Sony's Network Services branch. The premium sub neatly folds into the company's biggest cash crop (gaming) and powers a strong, ever-churning engagement wheel that sees millions interacting on the network and buying from the PS Store. One of Sony's biggest challenges isn't just to get new PS Plus subscribers, but to retain them, and ultimately this hasn't been a problem. Even when numbers drop they typically don't do so dramatically, and in Q1 Sony only lost about 300,00 subscribers.

The company's latest financial documents show that Sony had 34.2 million PS Plus subscribers in March, which dipped slightly to 33.9 million in June. That's a small 0.87% drop that equates to about 300,000 users. What's also interesting to note is that PS Plus sub numbers usually fluctuate on a quarter-to-quarter basis but typically grow year-on-year.
Despite this drop, Sony's Network Services were up 21% year-over-year to 75.4 billion yen, which is higher than the first three quarters of the last fiscal year.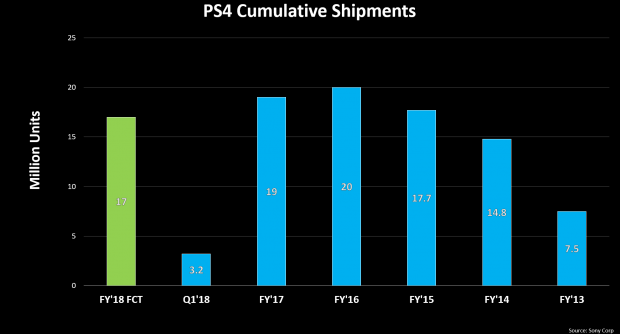 In other Sony happenings, the PS4 family of consoles has now broken 80 million worldwide shipments. The company sold-in 3.2 million PS4 systems in the three-month period ended June 30, bringing the total cumulative global shipments to 82.2 million.
Games and Network Services segment sales revenue for Fiscal Q1'18
Software sales: ~ ¥268 billion (+70% YoY), about 57% of total sales rev.
Hardware sales: ~ ¥98 billion (+0.61% YoY), about 21% of total sales rev.
Network services: ~ ¥75 billion (+21% YoY), about 16% of total sales rev.
Other (peripheral sales like PSVR, DualShock, PS Camera, etc): ~ ¥29 billion (-10% YoY), about 6.2% of total sales rev.
Total: ¥ 472 billion
Related Tags